Anne Sheldon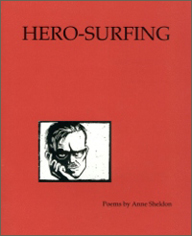 Anne Sheldon was born in Washington, DC, and graduated from Swarthmore College. Formerly a children's librarian, she lives in Silver Spring, Maryland, with
two cats, where she is active in her church. She is currently a poet-in-the-schools working through the Maryland State Arts Council and teaches storytelling at the College of Library and Information Sciences at the University of Maryland. As a storyteller, she has performed widely in the mid-Atlantic region. Her repertoire includes folktales and legends as well as her own narrative poetry and that of classic poets such as Robert Frost.
Excerpt from Hero Surfing
THE COMMON CUP
Little mention's made of other grails:
the gourd the woman gave him at the well,
the goblet he was handed at the wedding,
the amphora he filled there.
Did Peter's mother use the bowl again
once Jesus made her well enough to cook?
Perhaps he stroked the rim with a calloused thumb
and scooped his fill of dinner with a shard
of broken bread. Martha kept a cup
for him and him alone in Bethany.
The alabaster jar was meant to break …
and all are broken now, and more than broken,
especially the ones without a story.
Was that rough chalice chipped? The earthenware
he drank from in his mother's house in Nazareth
when he came home with sawdust in his throat?
GOOD FRIDAY, 1421: THOMAS, DUKE
of Clarence harangues his bastard son.
Do not distress yourself about the odds.
They're mostly French and, even with their Scots,
no match for English cavalry.
The King's away, I'm in charge in France,
and you, my son, have not spent half your life
explaining why you weren't at Agincourt,
October twenty-fifth, the-Bleeding-Year-
of-Our-Bleeding-Lord, 1415.
(Have you cleaned my Italian scabbard yet?)
His Grace your uncle's famous for his nerve
but Agincourt was all topography
and mud. (No, not like that, you'll scratch
the silver.) I know my brother's careful ass.
He won't move off the pot without his archers.
When minstrels have forgotten Agincourt,
they'll sing about Bauge and valiant Clarence,
the uncrowned Lionheart of this dark age.
(Boar bristle's what you need to loosen blood
from where it's hardened down between the roses.)
---
Reviews
Boar bristle's what you need to loosen blood
from where it's hardened down between the roses.
Thus the Duke of Clarence to his bastard son, who is busily cleaning a scabbard embossed with the rose of Lancaster, on the eve of a battle in which both of them will die. Anne Sheldon's distinctive note is a quiet materialism. No spiritual flight, whether in 15th-century France, the Iceland of the sagas, or contemporary Maryland, goes far from the food and shelter and flesh that are its launchpad. At the same time, Sheldon is a deeply religious poet. In 'The Last Breakfast," Christ brings good things from the future — coffee, and a galvanized pot to boil it in — to his last appearance, by the Sea of Tiberias.
How far he's come
to make their coffee.
Surely he won't be forced
to work another miracle.
Surely, surely, they will turn.
All the emotions so movingly observed in this book – those of saga-heroes rhyming their deeds, Lancastrian wives mourning deaths to come, the poet discarding relics, of a lost love – circle around a subtle point of compassion, of unforced consciousness of others, which is Sheldon's invaluable contribution to modern poetry.
—Frederick Pollack