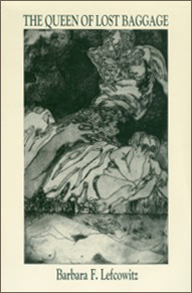 Barbara F. Lefcowitz has just published her seventh collection of poetry, The Politics of Snow: 100 New Poems. It was published by Dancing Moon Press in Newport, Oregon, as was her sixth book, A Hand of Stars. Since publication of The Queen of Lost Baggage by WWPH, she has also published Shadows & Goatbones (Scop Publications, 1992) and The Minarets of Vienna (Chestnut Hills Press, 1996).
An e-book of her experimental essays, Swans, Ladders, Houdini will soon by published by Indigo Books. She is now retired from teaching at Anne Arundel Community College but keeps busy by writing, printmaking, and foreign travel, including a number of volunteer teaching trips to countries like Romania, China, Turkey, and Spain.
Poems from The Queen of Lost Baggage
The Decline of Language
Next Tuesday (a lean slippery face)
you'll be starting school (a silvery lozenge)
my father told me as we walked down the street
A teacher (very tall, her purple satin gown
pools at her feet)
will make you learn
that Tuesday follows Monday
schools are for alphabets
teachers are called Miss Dayton
and smell from Vicks
Many years later
on an island in Casco Bay
I saw Wednesday again:
a swatch of rough brown carpet.
And remembered June:
reddish, swollen, like a giant tangerine lobe.
Friday is a crispy wheel.
I wish I could recall
what a face looks like;
a lozenge, purple satin, tangerine, wheel.
---
Reviews
Lefcowitz moves deftly between dream and reality and imagination…
—Choice
The rope of history and self is twined in a brilliant pattern…
—American Book Review
Her pages are filled with a poetry of dark surprise…
—Portland Monthly
Lefcowitz is a poet of daring and tough charm. . .
—Library Journal