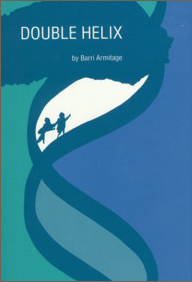 Born in Columbus, Ohio, Barri Armitage grew up in Akron and attended Muskingum College (BA) and Syracuse University (MA). She has lived in Germany, New
York, Hawaii, Georgia, and Maryland, teaching elementary grades, poetry in the schools, and adult basic education at various times. While in Georgia, she did graduate work in English at Augusta College and the University of South Carolina, and from 1980-1984 she was poetry editor for The Augusta Spectator. Armitage currently lives with her husband, Dave, in Silver Spring, Maryland.
Reviews
The powers in Barri Armitage's poetry emerge from inner bedrock and wellsprings that nearly all readers and writers would profess to yearn for, to live from. But, in truth, most of us would be garbled or silenced by the personal tragedy she has channeled into some of the finest elegiac writing of recent years-and subsequently into love poems that can achieve marvelous effects, as well as sociopolitical works that refused to sacrifice poetic excellence for polemic and rhetoric. To an uncanny degree, we join with the poet's experience and emotional wisdom, spiraling in tandem to emulate those fundamental bonds her title evokes."
—Stephen Corey, Associate Editor, The Georgia Review
Double Helix is a book of powerful transfiguration, a record of loss slowly and finally digested so as to become the substance of healing.
—Katherine Soniat, Poet, Teacher, Virginia Tech

I am persuaded and moved, especially by the wrenchingly beautiful sequence whose genesis is a daughter's accidental death. Through quiet, accurate language, the poet's pain is rendered with terrifying clarity. These are poems of survival, even of celebration, in the face of irredeemable loss.
—Susan Ludvigson, Poet, Teacher, Winthrop University
I love the courage of Armitage's poems, the risks, the splendor, as in these lines from the title poem: Like the widow who 'shared her food / with Elijah… lately it seems, the more I bake, / the more the oil rises in the jar.'
—Walter McDonald, Poetry Editor, Texas Tech University Press
Barri Armitage's poems strike me as a charmed echo of the eighteenth century, in clarity, fluidity, and rationality.
—Jack Zucker, Editor, The Bridge
Poem from Double Helix
Square Dance
Blue-checked cotton made
to match, we court
and fluff like cranes.
Hip to hip we swing,
your eyes the pivot
for which there is no call.
In time, a change so gradual
I barely hear the moving
to another key-the words
that skip us on to split
the ring, to separate
and take the outside track,
circle up four until I stand,
birdie in the cage, pulled
to the grand right and left
by hands that slip on past.
"Gentlemen, walk single-
ladies, back to back-
remember your man as he comes
around the bend."
Costumes and bodies blur
until your face brings a lift of song-
the feel of the bones of your back,
arms circling me home,
swinging me round and round-
layers of slip lifting from my legs,
the two of us slowing the pace,
swinging the pure spin seen
from space-blue earth
banded with drifts of white.