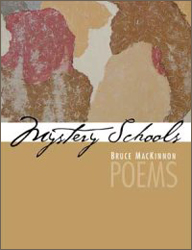 Bruce MacKinnon's poems have appeared in many magazines and journals, including Salmagundi, Boulevard, Poet Lore, The Literary Review, The Sewanee Review, and Poetry Northwest, for which he won the Richard Hugo Prize. He has also been awarded the Richard Soref Scholarship in Poetry for the 2005 Bread Loaf Writers' Conference, an Individual Artist Award in Poetry from the Maryland State Arts Council, and was selected by Tom Sleigh as an Academy of American Poets Prize winner. He teaches creative writing at The George Washington University in Washington DC.
Excerpt: Mystery Schools
Atlantis
How is it she comes back, resurrected,
always rising like the corn, her body like yours
spread across the motel bed, the ocean still outside,
the rain mapping the sand, the doorway open,
pelicans and gulls drawn in gray and blue. The waves
whisper outside these doors, where desire undresses
each one slowly, first curling as far and as slow
as the eye can see, then building power until the horizon
comes closer, is there at your feet, where you grow
out of the ground, rooted a moment more, before you go
with her and everything tastes of salt and honeysuckle,
the one drop from each bitten, cream-brown flower.
Her legs are here and then there, the nape of the neck,
the shoulders, the grains of sand, clear and white
as sugar that roughs the skin, that bruises the soft inside
of a thigh, the goddess reclining like the history
of the world. And then the instant it takes to see flowers
on the table, Queen Anne's Lace and Black Eyed Susans,
a thousand eyes bring you into the room,
where the mist curls as she looks up, her hands behind her,
over her head now and beneath a pillow as if grasping
through the clouds for something just beyond
the headboard and through the wall in the next room,
where mermaids become human with desire, and Atlantis
lies buried. You'll soon see if the mist rolls off,
if the announcer gets it right, the one whose blurred voice
you hear somewhere between the bands of static
the waves make, the sheets make, she makes as she moves,
rolling between planes, fingernails long and red as poppies,
as your bodies rise from the waves of sheets
like the backs of dolphins beyond the black rocks,
or the blink of the lighthouse down the coast,
a warning rising up against the sky for ships
to come no farther, that beyond that point,
they must not go.
Blue Hydrangeas
Bunches of blue, bushels of blue. And if you say it over
and over, rolling it in your mouth, saying blue,
blue, it becomes a kite on a broken line,
disappearing in all that blue before circling back
to the memory flowers in your grandmother's yard,
where you see her stooping over, snipping off, carrying
by the armload to dry multicolored for winter vases.
Not roadside fields of gentians—flowers from
a different story, ones with a scent of wilderness
about them—but childhood or maybe even endless blue.
Not dark blue. Certainly not dark night of the blue soul,
forty days and forty nights blue. But shadow side
of the house blue. Good dog blue. Blue that can be counted,
kept track of by the bees, honeycomb blue. Bypassed
by hummingbirds who have eyes, beaks, for red only,
who are in too much of a hurry to pause at blue.
Tall drink of water, root to leaf to flower blue.
Not twilight or bat-wing, but nap-time blue. Not blue-jay,
but bluebird, happiness on your shoulder, sprinkler,
fan and open window blue. Not iceberg or porcelain,
but the kind that finds its way in through the ear,
going down the dark passage of nerve endings, playing pinball,
piling up enough points to win another free game or two,
tickling the little harp strings, the same small hairs
as a bathtub-boat breeze, as a wind that makes the laundry
flap with laughter on a line, all those white dresses
kicking up their heels, to perfection blued, blueing, blue
---
Reviews
In his attention to detail and in his reverence for the smallest moments of experience Bruce MacKinnon compounds and intensifies the events of daily life. Mystery Schools sings with a passionate and capacious clarity reminiscent of Gerald Stern and like Stern, he portrays our 'life and death struggles' that 'go on without mercy.
—Michael Collier
The 'glide in slow circles' may be one means of suggesting the ease of movement and gift for segue inherent in the narratives of these large poems, but it should also define their essential lyricism: how they return and return to their common yet surprising centers of gravity. Mystery Schools is thorough and deeply textured poetry and adult in the way serious poetry should be — by not taking itself too seriously while allowing the writing to take its own good time.
—Stanley Plumly
There are truly masterful poems inMystery Schools . . . Bruce MacKinnon seems to have sprung out of Zeus's head fully formed and fully skilled—a true original.  In poems at once genuine, charming, ferocious and poignant, MacKinnon writes about domestic life as a son, a father, a husband; in his tender tough-guy voice, he tackles the big subjects&151;fate, mortality, death, love.  His long, gorgeous sentences, once cast out, loop back over themselves and continue on with driving rhythms and absolute confidence.
—Jane Shore