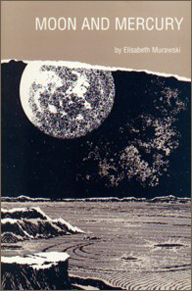 Elisabeth Murawski, like the T'ang dynasty poet Han-Shan whom she deeply admires, divides her time between a government job and writing poetry. She finds it amusing that Han-Shan wrote "until I'm old I'll go on checking census figures," because she has worked as a training specialist for the United States Census Bureau since 1977.A native of Chicago, she is a graduate of De Paul University (B.A., 1957). Her work has appeared in numerous literary quarterlies and journals, including American Poetry Review, Grand Street, The Literary Review,The Ohio Review, Virginia Quarterly Review, and others.
She has received two grants for her writing from the Helene Wurlitzer Foundation in Taos, New Mexico. She currently resides in Alexandria, Virginia.
---
Reviews
Winner of the 2008 Washington Writers' Publishing House Poetry Prize
We meet a Mayan cowboy, Archimedes, a diamond smuggler and a nightclubbing saint in this collection of poems bound together by the themes of place and origin. In Provenance, Brandel France de Bravo explores not only her own roots but the roots of words. Taking her cue from Ralph Waldo Emerson who said, "Every word was once a poem," she has written 26 poems—one for every letter—inspired by etymologies. By braiding autobiography with the biographies of "Apricot," "Zygote" and everything in between, the poet tells a story that transports us to places both familiar and far-away.
Sharp-eyed, sharp-tongued, sharply etched and sharply worded,Provenance is a book of alphabets and fables, of narrative precision and verbal passion. Across a host of exotic locales, and through the labyrinth of etymology, Brandel France de Bravo is a poet of restless travel and linguistic inquiry—what luck for the reader who accompanies her on the voyage!
—Campbell McGrath
In Provenance, Brandel France de Bravo writes with urgency of continuous displacement, an exile status rendering her exquisitely sensitive to the textures of daily life. She is forever a stranger among those who do not ask "where I'm from, but where I've just come from, / which country I left last." At home in many cultures, at home in none, this gifted poet transforms a search for identity into a voyage through language, and finds her true roots in the alphabet letters that generate experience. This is a remarkable first book, and an important one in our time.
—Grace Schulman