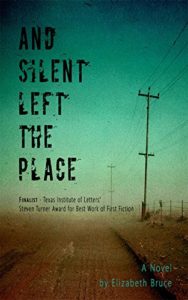 DC-based Texas writer/theatre artist/arts educator Elizabeth Bruce's debut novel, And Silent Left the Place, won Washington Writers' Publishing House's 2007 Fiction Prize, as well as ForeWord Magazine's Bronze Prize in General Fiction, and was one of two Finalists for the Texas Institute of Letters' Steven Turner Award for Best Work of First Fiction.
A native of the small Gulf Coast town of LaMarque, Elizabeth has lived in Washington, DC, since 1983; she has received numerous fellowships from the D.C. Commission on the Arts and Humanities as a writer, actor, or arts producer. She was nominated for a Pushcart Prize in 2018 by Australia's Spadina Literary Review, and has published prose in journals in the USA, Scotland, UK, Australia, New Zealand, and Malawi, including FireWords Quarterly, Pure Slush, takahē magazine, Literally Stories, Attic Door Press, Inklette, Lines & Stars, 'Merica Magazine, The Olive Press, The Remembered Arts, The Nthanda Review, Eos: The Creative Context, Human Noise Journal, Degenerate Literature, BareBack Magazine, and Washington Post, as well as in such anthologies as Gargoyle 64, Gravity Dancers, Weasel Press' How Well You Walk through Madness: An Anthology of Beat, Vine Leaves Literary Journal: A Collection of Vignettes from Across the Globe, and Blue Hour Anthology (upcoming).  Selections from her story collection-in-progress (each of which begins with the words "One dollar") were produced at the Capital Fringe Festival as "Legal Tender: Flash Theatre for a Flash Fiction World," in which an ensemble of five actors animated the focal characters and various backstory/present action voices.
With her husband and artistic partner, Robert Michael Oliver, as well as Jill Navarre, she co-founded a small, transcultural theatre, Sanctuary Theatre in DC's Columbia Heights neighborhood in 1983, and has worked for 35+ years as a local arts educator, writer, and producer, including her decades of work as Community Arts Producer at CentroNía. CentroNía's recently published Theatrical Journey Playbook: Introducing Science to Early Learners through Guided Pretend Play by Elizabeth Bruce, which details the hands-on, collectivist educational project Elizabeth created and runs at CentroNía, was a Finalist for the 12th Annual National Indie Excellence® Awards, 10th Annual International Book Awards, & 9th Annual IAN Book of the Year Awards.
She has co-authored commissioned scripts for Adventure Theatre, Sanctuary Theatre, and the Washington Ethical Society, and was 1st Place Winner in Carpetbag Theatre's W.F. Lucas Playwriting Competition in Knoxville, Tennessee.  As an actor she performed most recently at the Women's Voices Theatre Festival, the Capital Fringe Festival, and with the Irish arts theatre company, Solas Nua.
Elizabeth has studied fiction with such esteemed writers as Richard Bausch, John McNally, Lee K. Abbot, Janet Peery, Liam Callanan, and Lisa Schamess, and has been a member of numerous literary or theatre organizations. She produces the free monthly intergenerational community writing workshop, Writers on the Green Line, as well as Women Artists/Women Healing.
She and her husband Michael have lived in the northeast DC neighborhood of Brookland for over 30 years where they raised their two adult children, Maya and Dylan. Elizabeth's novel has been selected for the Alumni Book Club of her alma mater, The Colorado College, and is available directly from the publisher: wwphpress@gmail.com.
Contact Elizabeth Bruce
Phone: 202-841-7182
eMail: elizabethbruce@hotmail.com
Website: www.elizabethbrucedc.com
Summary of And Silent Left the Place
In April of 1963 a young woman stands naked and afraid in the South Texas dark, silenced by a rich man's bargain–a roll in the desert for her boyfriend's release from jail. Miles away, a silent old man climbs into his secret hole, burdened by his Great War bargain–his voice for life with his beloved. In And Silent Left the Place the burden of silence passes from old to young on this landscape filled with racial violence. Drawing metaphorical references – as well as its title – from the story of King Midas' barber in Ovid's Metamorphoses.The debut novel of Washington writer Elizabeth Bruce, Silent is a lyric tale of brutality, redemption, and love reclaimed in the cruel, dry land of Texas.
2007 Fiction Winner, Washington Writers' Publishing House
Bronze Winner – ForeWord Magazine's Book of the Year Award in General Fiction 2007
Nominated for Texas Institute of Letters' Steven Turner Award for Best Work of First Fiction 2007
The Montserrat Review's Best Books for Summer Reading 2008
Recommended by Small Press Distributors 2007
---
Reviews
"Bruce's characters leap off the page at you, they have vividness and substance, and the result, reading her work, is that one feels the life there… a deeply gifted writer."
—Richard Bausch winner of the PEN/Faulkner and PEN/Malamud Awards
"Elizabeth Bruce has written a beautiful and layered story of lives intertwined by multi-generational secrets."
—Gretchen Roberts-Shorter, author of Can't Remember Playing (WWPH Press) and 2007 WWPH Fiction Judge,
"Bruce is an incredibly disciplined writer with an exquisite ear for language and a vivid sense of character… Her strength lies in how well she can convey what makes an individual unique, yet can include all her characters in the broader sweep of history and culture."
—Lisa Schamess, author ofBorrowed Light (SMU Press 2002) and winner of the 2003 Texas Institute of Letters Prize for First Fiction.
I love the courage of Armitage's poems, the risks, the splendor, as in these lines from the title poem: Like the widow who 'shared her food / with Elijah… lately it seems, the more I bake, / the more the oil rises in the jar.'
—Walter McDonald, Poetry Editor, Texas Tech University Press
Barri Armitage's poems strike me as a charmed echo of the eighteenth century, in clarity, fluidity, and rationality.
—Jack Zucker, Editor, The Bridge