Martin Galvin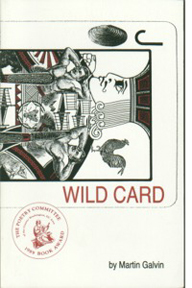 Martin Galvin received his Ph. D. in American Literature from the University of Maryland. He has taught for 30 years in the Bethesda area and currently teaches a workshop at the Writer's Center. His poetry, fiction and essays have appeared in dozens of journals including Poetry, Atlantic Monthly, New Republic, Commonweal, JAMA, Science 84 and numerous anthologies. He is also the author of two chap books, Making Beds andAppetites. Born in Philadelphia, He now resides in Chevy Chase, MD with his wife, Theresa.Galvin's book Wild Card was selected by the Poetry Committee of the Greater Washington, DC area to receive the 1989 Book Award, judged by Poet Laureate of the U.S., Howard Nemerov.
Poem from Wild Card
Doorman
The night we heard the news from space,
my daughter, who is three, remarks
with no surprise but careful to instruct:
"The moon is like a doorknob,"
to that other self all children seem
to have and have to answer to.
I sit trying to construct a poem of praise.
Spacemen and women stumble down the page.
She says again, impatient to be gone,
"The moon's a doorknob," and,
already dressed to play outside,
waits for me to open up the sky.
---
Reviews
Martin Galvin's work is original, varied and exciting, and has been steadily growing in scope and control. The core of her poems is vitality. Grim, joyous, exuberant or erotic, they have a strong and vivid life.
—Josephine Jacobsen