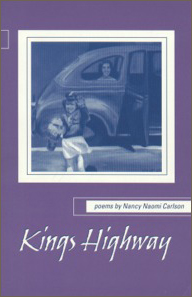 Nancy Naomi Carlson was born in Brooklyn, New York and was educated at Queens College. She earned her Ph.D. at the University of Maryland. Her poems have appeared in a number of literary journals, includingChelsea, The Greensboro Review, Poetry, Prairie Schooner,Shenandoah, and The Southern Review, and translations have been published in Colorado Review, Crazyhorse, Denver Quarterly, Southern Humanities Review, and are forthcoming in Circumference, The Marlboro Review, Puerto del Sol, and West Branch. Nancy's collection of poetry,Kings Highway, was a co-winner for the Washington Writers' Publishing House competition, and Complications of the Heart won the 2002 Texas Review Press' Robert Phillips Poetry Chapbook Prize. Imperfect Seal of Lips was the winner of the 2005 Tennessee Chapbook prize. Nominated five times for a Pushcart prize, she is currently an associate editor for Tupelo Press and an instructor at the Bethesda Writer's Center.
Poem from Kings Highway
 Subtitles
–"Language is primarily so much air…"
–Anthony Burgess
We read the shape of lips
as they frame each mouthful of air–
the taut pull crisping sound
or the rounded pout,
meaning twisted into patterns
that take on a familiar slant.
Eyebrows arch and drop,
ride the curves of inflection.
When the timing is off,
words appear before they are spoken.
Some sounds run on,
as if from underwater,
meaning rising to the surface
with an instinct to survive.
Feeling amplifies
the steady beat, beat of idea
that opens to a human voice
transposed to fit any key.
---
Reviews
In this taut gathering of lyrics, lyrical narratives, and dramatic monologues, Nancy Carlson reminds us that the poet's true arena is not human experiences-which all of us undergo-but the articulation of those experiences via language. A mother grieves for her dead newborn and celebrates her living children, composer Robert Schumann offers a passionate lament from his asylum cell, a beekeeping wife and husband discover in their shared work a strange, luminous image of their love:
"Veiled and gloved, / we hold our ground, / handfuls of bees! balanced between us."
Articulation: "the way in which parts are joined together; utterance or enunciation, a way of talking or pronouncing…"
—Stephen Corey
Kings Highway is freighted with loss, though loss is the poet's route to understanding and acceptance. Poems here reiterate and expand on this theme. At their center, literally and metaphorically, is breath, as in the acute attentiveness to a newborn's giving breath up, to a drowned baby's breath "resurfacing," to a starling "still formed, it looked asleep," to a violin's breath rising from the "rosined bow! against each string." These are poems attuned to the subtle motions of grief and love that give need to words in the first place.
—Merrill Lefler