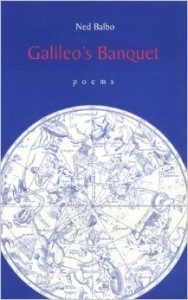 Ned Balbo's first poetry collection, Galileo's Banquet (WWPH, 1998), was awarded the Towson University Prize. Another collection, Lives of the Sleepers (University of Notre Dame Press, 2005), received the Ernest Sandeen Poetry Prize, a ForeWord magazine Book of the Year Award in poetry, and was a finalist for the Arlin G. Meyer Prize of the Lilly fellows program. The recipient of three Maryland Arts Council grants, he has received the Robert Frost Foundation Poetry Award and the John Guyon Literary Nonfiction Prize. "My Father's Music," an essay on adoptive identity and ethnicity, and a finalist for both the Faulkner/Wisdom award and the Laura Pizer Prize, appears in Creative Nonfiction's anthology of Italian-American prose, Our Roots Are Deep with Passion (Other Press, 2006). Something Must Happen, a chapbook of new poems, will appear in 2009 from Finishing Line Press. A Long Island native, Balbo teaches at Loyola University Maryland and lives in Baltimore with his wife, poet-essayist Jane Satterfield, and her daughter Catherine.
Poems from Galileo's Banquet
Whose Son, Whose Daughter
For Kim ("Schatzi"), ca. 1975
Sister, when you blew smoke against the glass,
I looked up at the school bus, stood below
In snow. For months you knew whose son I was,
Whose daughter you were. A block away, your house,
Grandparents who'd raised you, waited. Crunching snow,
The bus moved on. You blew smoke on the glass.
Red stoplights flashed, brakes groaned again. Your voice
Carried as you stepped off. Don't look back now–
For months before I knew whose son I was,
We'd pass in the halls then look away. I guess
When told, you thought, It's better not to know.
I watched. Laughing, you'd blown smoke on the glass
While I imagined other lives for us,
Those missing years. If I'd been raised with you–
All gone. I thought I'd known whose son I was,
But now…Too late. You'd passed from view. The bus
Scattered exhaust on snow heaped by the plow.
How much was lost, like breath against cold glass…
You tried hard to forget whose son I was.
Discovery
Before the Challenger memorial service, September 1988
First flight after disaster. Nothing moves
Except with grace, weightless beyond the glass,
Across a blue, bright ocean. Earth persists,
Its white clouds luminous, while here in space,
Unfastened, you turn slowly, heels to head,
Clipboard in hand, reading. What will you say?
Dear friends, your loss has freed us to begin
Anew with confidence…No, that's not right.
Lost moon and rubble, everything that moves,
All dangers no one can anticipate,
Dead still and silent stars so far away
That to behold them is to mourn their loss,
What's missing these last hours before the broadcast?
You weren't the first, and you won't be the last.
---
Reviews
In his extraordinary and compelling debut volume Galileo's Banquet, Ned Balbo investigates a cosmology of human aspirations that is deeply intimate and openly public. Wherever Ned Balbo trains his lens, we discover a poetry that is both historically wise and psychologically complex. His supremely lyrical narrative pulsars will be with us, I'm confident, for many, many years to come.
—David St. John
Ned Balbo's first book, Galileo's Banquet, is about what can be seen, known, and trusted, and what cannot. The seeing involved is both celestial and earthly, as the poet comes to terms with his own secret adoption and the painful revelations that follow years later. In an age that prizes unchecked confessionalism, Balbo handles heavily freighted emotional issues with clear-headed restraint and a beautiful formal control. His poems demonstrate that, in a world of imperfect and broken human relationships, the very act of writing poetry is a form of consolation,of healing.
—Elizabeth Spires
Ned Balbo's Galileo's Banquet marks the elegant debut of a writer whose poems link the history of the galaxy to a family burdened with secrets. His images and his mastery of meter and form will take your breath away.
—Nancy Willard