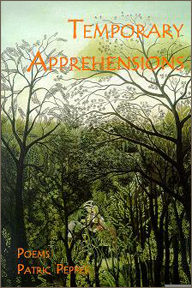 Patric Pepper was born, and lives, in Washington D.C. His poems have appeared in various magazines and anthologies, including Confrontation, The Distillery, Medicinal Purposes Literary Review and The Comstock Review. His chapbook, Zoned Industrial, was published by Poet to Poet, Richmond Hill, New York, in 2000 as the first annual Medicinal PurposesChapbook Contest winner. His Poem "Judas Tree" won the 1998 Muriel Craft Bailey Award from The Comstock Review. Since 1982 he has been a member of the Capitol Hill Poetry Group, which published a twentieth anniversary anthology, The Other Side of the Hill, 1975-1995, Forest Woods Media Productions Inc., 1996.
Excerpt from Temporary Apprehensions
INTERVIEW WITH A LUMP OF COAL
When were you born?
Never, really . . . it's hard
to say. Once I was water, air and earth.
Then I was plants—year after year those hoards
lay down—and now I'm coal. I had no birth.
What are you made of now?
Same thing as you,
compounds, carbon, this and that, nothing new.
What do you do?
Since I left the seam?
Same thing: I sleep and sleep and never dream.
Are you feeling disappointment, not
to have fulfilled your destiny as diamond?
No . . . no, not really. Aren't they carbon,
too? A little older, maybe somewhat?
How do you think about death?
Think about death?
I wasn't born. I think I'm fire next.

---
Reviews
These poems are written out of gratitude for the simple, common things we are offered; they are about luck in the spirit of love, the everlasting in the face of sure impending loss. Patric Pepper hears the crows' "tattered song" but believes in the poet's voice, even silenced, and although the coal is not destined to become diamond, he believes in its fire. The worm is a "fantastic creature," offering itself up as the humble representation of everything brave and good in the world. Again and again, as this poet says, we "pray hello!across a great divide."
—Cleopatra Mathis
If Patric Pepper's apprehensions are temporary—as whose are not?—his attention is comprehensive, and his imagination prehensile, with a hold that gives moment to the moments he holds: details of nature (bugs "mating on the wing") and culture (a Chagall painting where "lovers drift/in bluish light"); of high culture (Kant and Campion) and low (Blondie and Dagwood); of places from Pittsburgh to Provincetown to Ground Zero; of various pasts (personal, political, geological); and of all the godforsaken—mechanics and truck drivers, boxers and pavers, poets and whores.
—H. L. Hix
A glance at the titles of these poems will give you some idea of the way this poet's mind pounces on everything—unlikely objects, "unpoetic" sites, ephemera, art, history, cartoon characters—and succeeds in finding, in all of it, some unsuspected insights that will surprise and delight you by illuminating your experience and mine. "Interview with a Lump of Coal," "Paving Parking Lots," "Fuel Tanks Out by the Airport," "Soap Bubbles," and "The Work Life of Blondie and Dagwood," for instance, stand beside the more traditional "To Anna Akhmatova," "Remembering Heidi," and "Marcus Aurelius at Carnumtum," which attest to Patric Pepper's considerable and well-used reading. Others, such as "Ground Zero," "Channing Street," "Provincetown" and "A Pittsburgh Ballade," record the poet's passage through the physical world he knows, and reveal his clear, precise attention to the significant detail, his grasp on the meaning of place.
But only reading the poems themselves will tell you how persuasive they are, how beautifully written, how truthful, intelligent and lyrical, and how deeply felt, particularly those dedicated to the dead. Here, in an elegy addressed to a poet friend, Patric Pepper remembers ". . . how you fiddled with your Chinese forms / making them into porcelain vases filled with / you: sorrows of the ages all renewed." The surprising and delicately calculated placement of that "you" is both a tribute to the dead poet, and an example of the living poet's subtlety. And here, finally, is the opening of "Judas Tree," a stark retelling of the New Testament story that, all by itself, makes this remarkable collection a necessity:
Judas took a scrap of leather
and made himself a handy noose.
Then in lovely April weather
he choked himself, with some excuse.
Yes, buy this book: you'll be glad you did.
—Rhina P. Espaillat