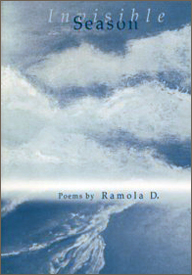 Ramola D holds an MFA in Poetry from George Mason University, and an MBA and a BS in Physics from the University of Madras, India. She has taught writing at George Washington University, American University, Montgomery College, and George Mason University, and worked as a technical communications consultant for various organizations, including telecom firms, law firms, and a homeless shelter.Ramola's poetry has appeared in Agni, Indiana Review, Prairie Schooner, Green Mountains Review, Phoebe, Asian Pacific American Journal, Word Wrights! and other reviews, short fiction in So to Speak, Literal Latte, Hyper Age, and Indian Express. A semi-finalist in the "Discovery"/The Nation poetry award, her poetry has been twice nominated for Pushcart prizes and appeared in Best American Poetry 1994. Ramola's essays, articles, and interviews have appeared in The Writer's Chronicle (AWP), Indian Express, Telegraph, Aside, PETA Online, and the Golden Jubilee souvenir issued in 1997 on the 50th anniversary of India's independence by the National Federation of Indian-American Associations. She has hosted and produced news & interview shows featuring environmental and animal protection organizations on Arlington Weekly News andUptime, for Channel 33, Arlington Community Television. She currently teaches creative writing workshops through The Writer's Center, Bethesda and Arlington Adult Education.
Poems from Invisible Season
Visitor
The pathways of accident
have brought me here. Clear,
a rising. Quiet
grows by the water's edge
as if in a dream. Wind
converses with water. Slow,
a foreign space, for my hands
know nothing of its contours,
its pure forgiving. Half-formed, even leaves
pull gently at breath. How long
does rain desist? I walk
to the top of the hill where woods
begin, where a mist
loosens the sharp
edges of moon and swallows trees. The air
is lilac. I think: no shadow
can weight this lucence.
It comes and goes as I stand,
looking, a small radiance in wood
that must settle
in sheerest of grain to a constant
shining, exceed itself.
Listen, the children
Listen, the children are not
asking,
they call
in the wake of voices
they hear
around them, they put
their palms open
as questions
before you, they give
you their eyes, dead
around the rims, small
flickers of want
in the center, and
you brush them away, you walk
from the hovering
and the following because
they disturb you,
and you go, thinking they want
like all creatures want.
But listen, they are looking
at you from such
a terrible distance,
more intense than you thought
you would ever know,
they are saying what they
are learning
to say, ama, apa, they call
you mother, father,
or aka, anan, sister,
brother, they want
you to take
their palms and see
how much they are
like yours, you are
their family, and you refuse
to see those lines
that resemble
your own, you rush
away and their voices
stop
in the distance.
You ask who brought you here
to this place, who gave
you all
you never asked for, yet who
will tell you now
there is no asking
there is no want
there is no desire
until you hear
what they are
saying to you, until you see
the darkness
in their eyes, until you know
that what they want
is not anything
they can get
nor the world nor even
your wealth, but only
the promise that birth
offered them: their own lives.
---
Reviews
In these lyrical and inward poems, Ramola D constructs a personal but deeply interactive poetics of self and culture, self and object, self and world. Her gift for the beautiful is singularly impressive, though the beautiful remains as much a barrier as an end to desire. This is a signal of the poet's insight, which seems to originate in the moment of pure sensual awareness, but climbs quickly back toward mind and identity, where the beautiful alone cannot endure. This movement itself enacts an experience—perhaps a daily experience—of the self's defeat and its seeking, its obliteration and renewal, in our violently complex world.
—Susan Tichy