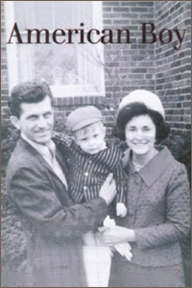 Dean Smith's poems have appeared in Poetry East, Open City, The Pearl, The Virginia Literary Review, The Charlotte Review, and Gulf Stream,among others.
His first book of poems, American Boy won the 2000 Washington Writer's Prize and was also awarded the Maryland Prize for Literature in 2001 for the best book published by a Maryland writer over the past three years. His prose writing has appeared in the Baltimore City Paper, the Baltimore Sun, The Chelsea Clinton News, IndieWire, theWoodstock Independent, Midnight Mind and the Washington Post, among others. He received an MFA in 1989 from Columbia University.
Poems from American Boy
Obsession
I think of you at night on a frozen lake
untouchable, wrapped in a bear shawl.
Your dogsled undone.
Zephyrs waltzing around you.
A face as naked as anything
on the moon-skinned ice.
One step farther and a crack
extends into the horizon.
The lake, like an old door, aches
with desperation.
We collapse in the shards of no tomorrow.
Lust of the water, press of the sky.
Interview with Dean Smith
Q: How and when did you find out that your book was being published?
I received a phone call from Martin Galvin and it was the happiest day of my life. I had finished runner-up the year before and had worked very hard on the manuscript with Elisavietta Ritchie.
Q: What was it like seeing your book in print for the first time?
It was pretty awe-inspiring after working on the manuscript for fifteen years. I carried a backpack filled with copies of American Boy to work. On the way down 16th Street that morning, a young woman had a serious bike accident and landed at my feet. Her bike caught the bumper of a car in front of her slowing down, it then sped up, pulling the bike out from under her and she hit the pavement hard. I used the satchel full of books to prop up her head until the ambulance came. I dabbed away blood with a Washington Post and started thinking about my book's place in the world. It finally hit home: the amount of my own blood expensed to bring it out.
Q: What kind of poet/fiction writer do you see yourself as? Is there a particular genre or subject matter you find yourself revisiting often?
I write narrative free-verse. I am a novelist with attention deficit disorder. I try and tell a story and writing a poem allows me to get in an out quickly. I try to invoke a sense of form through the use of language and not in any kind of contrived way. Stanley Kunitz talked about the "psychic energy" of a poem and that has always resonated with me.
Q: When did you first realize that you were a writer? Can you pinpoint a specific time in your life, or did you always know that you wanted to write?
I had an inkling when my when my 4th Grade teacher read my essay, "The Things I'm Thankful For," in front of the whole school. It wasn't a conscious decision. It's the one thing I feel the most comfortable doing. Writing classes provided a much-needed sanctuary when I was in college and trying to find a way to distinguish myself from classmates who were in the process of becoming imprinted versions of their parents. I found myself defending Sylvia Plath and Robert Lowell to my classmates. It was the Reagan years and I wasn't buying in.
Q: Can you discuss your writing practice? Are there particular places or times of day that you find most conducive to writing?
I write on airplanes and in coffee shops, late at night. I have a full-time job and two kids so I need to work in guerilla fashion. A hotel room for several days like a blank slate is my best option.
Q: What is it about your writing style that makes you unique?
I write about a lot of different subjects. I'm trying to write poems that are accessible to everyone, not just other poets. I'm still a student of the game when it comes to writing style. I'm still working on what I call the "plating" of a poem on the page. I'm a storyteller at heart.
Q: What do you think the WWPH has done for the Washington literary scene?
WWPH has been a springboard for several of our nation's distinguished poets such as Ethelbert Miller, Kim Roberts and Grace Cavalieri. Their first books were published by WWPH. Over the past few years, we've published Moira Egan, Nancy Naomi Carlson, Jane Satterfield, Carly Sachs and Ned Balbo—poets on the rise. From the early 1970s until now–the quality of the work speaks for itself.
If have an interest in poetry you can discover great writers like Bernie Jankowski, Katherine Smith, Dan Johnson, Piot Gwiazda, and Patric Pepper. I would stack their work up against anybody writing today.
Poetry is a tough business and many poets toil in obscurity. WWPH brings their voices to light. We are fortunate to have such mentors as Elisavietta Ritchie, Laura Brylawski-Miller and Martin Galvin.
It's kind of a well-kept secret these days but we are working to change that and will do so with a revamped and reengineered web presence.
Q: How involved are you in the DC literary scene now?
I do readings and try to show up when I can. I have two young children so my time is limited.
Q: What people have most inspired your work? Why?
Poets like Paul Muldoon, Charles Wright, Stanley Kunitz, Robert Lowell and Sylvia Plath. I remember seeing Paul Muldoon read at the University of Virginia in 1984 and was totally blown away. There was a theatrical quality to the work and he delivered the poems with an amazing sense of timing. I had no idea that this is what poetry could be.
I studied with Paul at Columbia only to find out that his work was exceptional because of the rigor he applied to the poems and to our work. You needed to explain the reason for every word being on the page. "Take care of the pennies and the dollars will follow after," he would say. He was the toughest teacher I've ever had. It was clear to me that he had forgotten more about literature than I knew at the time. We would finish two poems in two hours, maybe. There were great poets in those classes: Anna Rabinowitz, Jeannie Beaumont, and Scott Ferguson.
Q: What is your favorite book? Why?
"Life Studies" by Robert Lowell. It opened my eyes to what poetry could be. It didn't have to rhyme and it didn't require ornamentation. Poems like "For the Union Dead" and "Memories of West Street and Lepke."
Q: Who are your favorite authors and why?
I went to the graduate writing program at Columbia University and spend time reading the work of the people I went to school with and know—Campbell McGrath, David Means, Rick Moody, Cathy Bowman, and Stephen Dubner.
Q: What is the best writing advice you ever received and from who?
"Write what you know," Campbell McGrath told me during a cab ride in NYC in the late eighties. He then began quoting from his first book, "Capitalism."
"I went to a 7-Eleven. I ate a burrito."
Q: What is the strangest job you ever had?
Cleaning windows in a steel mill and painting the walkways "federal safety yellow."
Q: If you could travel anywhere in the world to write, where would you go? Why?
Siena, Italy. I have always felt a strong attraction there.
Q: What is your favorite DC: restaurant, coffee shop, bookstore?
Sushi Taro on 17th and P. The Caribou Coffee shop on 15th and M Street. Borders on L because they are open with the morning rush hour and they have a great poetry section.
---
Reviews
Not merely boyhood but the gritty continent of American manhood is the territory this notable first book sets out to explore, a mythic landscape of faithless husbands, missing fathers, and obedient sons playing basketball in the shadow of John Wayne and JFK. I love the cultural energy unleashed in poems like "Druid Hill" and "Zona Blues," the James Wright-like empathy this poet has for blue collar Baltimore men and women who "spend the day in curlers/ watching Bowling for Dollars." When the pure products of America go crazy, Dean Smith has the eye and ear to transform their madness into poetry.
—Campbell McGrath
The poems of American Boy portray lives in which love and wholeness are continually compromised; yet they also accept our tainted world as it is, and in so doing, instruct us in the difficult art of forgiveness.
—Richard Jones