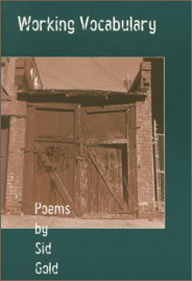 Sid Gold was born in Harlem's Sydenham Hospital and raised in various boroughs of New York City. A child of the working class, he has worked on a loading dock, in a scrapyard, as a cabdriver, blueprint trimmer, gas station attendant, housepainter, messenger, customer service representative, legal assistant, and bank teller in addition to having taught for twenty years.He studied at SUNY Brockport and the University of Maryland and teaches at The George Washington University, Bowie State University, and other Washington-area institutions. He lives in Hyattsville, Maryland. In addition, in 1997, Sid Gold was awarded the Maryland State Arts Council Grant forAchievement in Poetry
His second book, The Year of the Dog Throwers, was published by the Broadkill River Press (Milton DE) in 2010.
Excerpt: Working Vocabulary
Jefferson St.
Esther, sentry to paperboy, postman,
slumbering winos, woman of a thousand spasms
& tics, interrupts her jittery hobble
to greet you with a genial grimace,
hitches her dress, adjusts her horn rims,
palms her elbows, manages two words
in a choked guttural whine,
bows you through the front door
& resumes her vigilant patrol.
You pass shyly, watchful,
wondering what visitors might think.
Mrs. Tusch, the sweeper, fresh from a foray
into back alley refuse, swings her broom
in a relentless arc until the tiles
are scarred with straw.
Her pale face tensed, sketched by a spider,
she shuffles toward a dark corner
like a lame ghost at the tap of a footstep,
averts her gaze, & claims to know nothing.
Partners in the same broken dance,
their steps circumscribed by the front lawn,
its stand of stunted evergreens,
they shadow-box across the lobby
like punchdrunk boxers:
all of the memories, none of the moves.
Last Rites
I am a member of no church
& so it is fitting
my patron is a saint
with no name, from a village
found on no map, in a valley
no pilgrim can reach.
His relics, about which
tradition is vague, vanished
long ago, lost with those folios
of his Meditations not stolen
by thieves on the road to Rome,
& the two faded likenesses
that survive are remarkably unalike.
Despite his suspect hagiography,
I remain undiscouraged, tethered
to my faith like a guard dog
for no singular reason save that
when I am alone, I feel no presence
other than his, hear no voice
other than his whisper
counseling me, urging me
to do nothing, often, in his name.
---
Reviews
Remember how sometimes you'll walk through your usual day and suddenly see something in a way that makes you grin (at least internally) a YES? Sid Gold's poems do that. These poems see clearly and speak the honest language of everyday. Their distinctive energy derives from his gutsy approach and from his surprising and delighting images. Gold's poems have the dual good sense of lacking pretension and of carrying evocative pictures of the life energy in his city ofWorking Vocabulary, a city that welcomes and rewards re-visitings.
—Martin Galvin