This Is What America Looks Like
Poetry and Fiction from DC, Maryland, and Virginia The first anthology from The Washington Writers' Publishing House in 25 Years
100 Poets and Fiction Writers Featured
PUBLICATION DATE: TUESDAY, FEBRUARY 2, 2021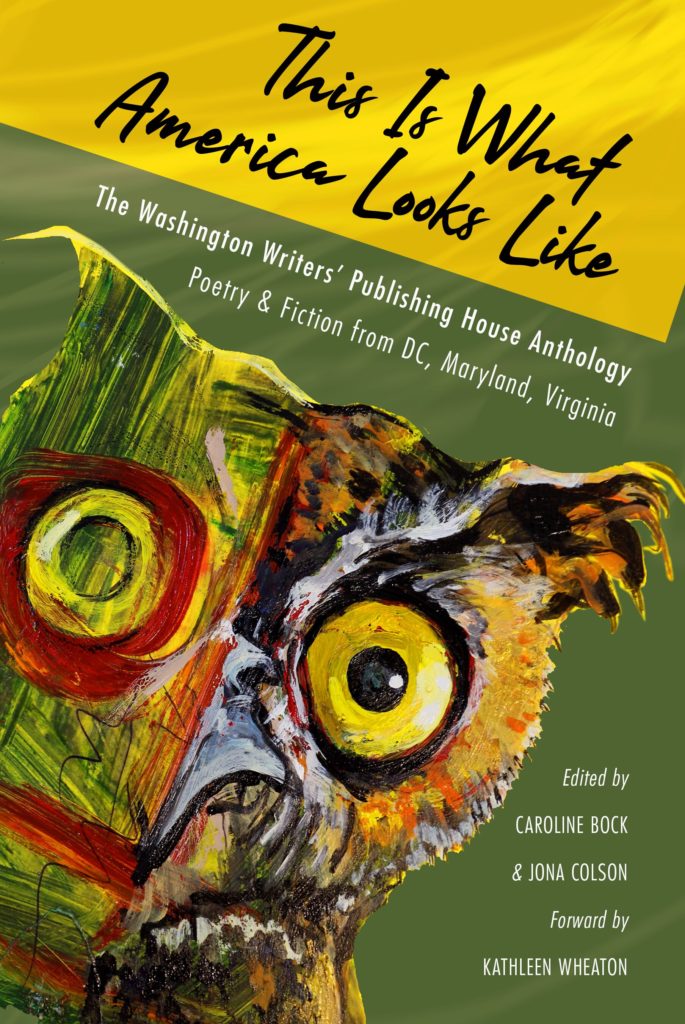 The Washington Writers' Publishing House, a venerable 45-year-old cooperative, all-volunteer small press, published its first anthology in 25 years when THIS IS WHAT AMERICA LOOKS LIKE: Poetry and Fiction from DC, Maryland and Virginia was released on February 2, 2021 in trade paperback.
This diverse, inclusive and incisive anthology features 111 works of poetry and fiction from 100 writers. Among the many notable writers included is Maryland Poet Laureate and press co-founder Grace Cavalieri.
Following an open call for submissions in February, 2020, the press received over 500 creative pieces, including new poetry and fiction from past WWPH winners. The ensuing pandemic and the nationwide protests for racial justice later that spring are reflected in the work reviewed and the pieces ultimately chosen to represent this extraordinary historical moment. Traditional geographic limits for submitters, which require residency within 75 miles of the US Capitol, were expanded to include all of Maryland and Virginia, as well as writers who have previously lived, worked or studied in the DMV.
"In the early winter of 2020, when we set out to compile TIWALL, we couldn't imagine the tidal wave about to break over our heads. The isolation, the worry, the tedium, the masks, the I can't breathe, the grief—all this is captured in the amber of art. Here is a picture of our time, our shared losses, our shared life," said Kathleen Wheaton, President, Washington Writers' Publishing House.
THIS IS WHAT AMERICA LOOKS LIKE was spearheaded by Fiction Editor Caroline Bock, 2018 Fiction Award Winner at The Washington Writers' Publishing House for her short story collection, Carry Her Home, and Poetry Editor Jona Colson, 2018 Jean Feldman Poetry Award winner for his collection Said Through Glass.
In addition to featuring 100 writers, three fiction writers and three poets were awarded special honors for their work. "While we are proud of all the work in our anthology, we wanted to highlight six writers whose work gave us a thrillingly close observation of America today –and who showed us a high level of artistry and daring," noted Bock.

Fiction honorees:
First place: Leslie Pietrzyk
Finalist: Ahmad Wright
Discovery: Christopher J. Greggs
Poetry honorees:
First place: Kateema Lee
Finalist: Regie Cabico
Discovery: Natalie E. Illum
Publication Details:
Editors: Foreword by Kathleen Wheaton
Fiction Editor: Caroline Bock
Poetry Editor: Jona Colson
Publisher: The Washington Writers' Publishing House
Publication Date: February 2, 2021
Cover Price: $21.99
ISBN #: 978-1—941551-25-7
The anthology featured cover art that has captured the attention of many–art representing the conflicted, tumultuous nature of the moment we are living in. The original piece, "Defiled: Owl," is the collaboration of two DC area artists:   
Dana Ellyn is a Washington, DC resident since 1989 and full-time painter who lives and paints in her downtown studio. Ellyn committed herself to 'full-time artist' status in 2002 when she decided to leave her corporate job and pursue painting. Her strong work ethic began as a child when she worked in a factory, excelled in school, and practiced art in her free time. Dana Ellyn has exhibited around the globe with significant museum showings in St. Petersburg, Russia and Baltimore, MD.  The message in her art is to comment and criticize on the hypocrisy of both the "left" and the "right" – all with the goal of starting a productive dialogue. You can view and purchase Dana Ellyn's art directly from her website at www.danaellyn.com.  Matt Sesow is a Washington, DC-based artist that has been painting in the city for over 25 years.  His colorful raw style of painting has been collected by a variety of art fans who have the opportunity to buy the work from him directly online. Sesow prides himself on his ability to sell museum-quality art directly to collectors at uncommonly affordable prices. More details on Matt Sesow's work can be found here: www.sesow.com