WASHINGTON WRITERS' PUBLISHING HOUSE TO PUBLISH WORKS IN TRANSLATION BEGINNING IN 2024
---
October 27, 2023 –The Washington Writers' Publishing House will publish their first-ever translation with Aguas/Waters by Miguel Avero, translated by Jona Colson on May 16, 2024, representing a major expansion of the regional press's mission to include works in translation from cultures/languages that have significant representation in the Washington DC, Maryland, and Virginia area. The Washington Writers' Publishing House has committed to publishing a biennial translation collection from a DMV translator going forward—global writers translated by our regional translators.
"Miguel Avero's poems demonstrate linguistic experimentation and music, which is infused in both the original and the translation. Aguas/Waters by Avero helps make sense of life and the self, highlighting the tradition of magical realism, and this translation will bring this important author to readers in the DMV and in the nation," notes Jona Colson, author ofSaid Through Glass and co-president of the Washington Writers' Publishing House. Partial funding from the DC Commission on the Arts and Humanities has made this project possible.
Miguel Avero, author of Aguas/Waters, is a prolific contemporary writer in Uruguay. Uruguay is the smallest Spanish-speaking country in South America and is often overlooked for its literary significance. Uruguayan poetry is difficult to find in translation, and his work carries themes that include his love for his motherland, civil war, and political corruption. Avero's poems elevate impressions of the everyday into something that we can only know through language and image.
Miguel Avero, born in Montevideo, Uruguay in 1984l, is a poet, narrator, essayist, teacher, and researcher. Co-founder of Orientacion Poesia and On the Path of Dogs. He directs the writing workshop "Puerta Quimera." Avero Participates in various national and international anthologies. He has published the collection of poems, including Arca de aserrin (Ediciones en blanco; 2011; republished in 2021 by Ediciones del Demiurgo), the nouvelle Michaela Moon (Travesia Ediciones, 2014; republished in 2015.) In 2016, Avero published the books Let Nobody Ask About You (Bestial Barracuda Babilonica, poetic prose) and La Pieza (Walkie Talkie Ediciones, poetry). He won the first Espacio Mixtura poetry prize with the book Libreta insomne (Editorial Primero de Mayo, 2019). In 2020, he published Haiku mate (Ediciones del Demiurgo, poetry) co-authored with the Minuan Poet Leonardo de Leon. In 2022, Prosperidad, a hybrid text of poetry, essays, and memoirs, was released by Ginko Ediroia. Recently, by the same publishing house, the book of short stories Michaela Moon y otros tentativas (2023) was published. Part of Avero's work has been translated into English and French.
Jona Colson is an educator and poet. He graduated from Goucher College with a double Bachelor's degree in English and Spanish and earned his MFA from American University and a Master's in Literature/Linguistics from George Mason University. His poems have appeared in The Southern Review, Ploughshares, The Massachusetts Review, and elsewhere. In addition to writing his own poetry, he also translates the Spanish language poetry of Miguel Avero from Montevideo, Uruguay. His translations can be found in Prairie Schooner, Tupelo Quarterly, and Palabras Errantes. He is currently a professor at Montgomery College in Maryland where he teaches English as a Second Language. He lives in the Dupont Circle area of Washington, DC.
---
---
Sample from upcoming collection:

AGUAS
Agua en la mañana alquitranada
o en la noche que cubre
de cartones el amanecer.
Agua en los tejados anidando.
WATERS
Water in the tar-dark morning
or at night where the cardboard boxes
block the sunrise.
Water nesting on rooftops.
---

Aguas/Waters
Poetry
By Miguel Avero (translated by Jona Colson)
Washington Writers' Publishing House
On Sale: May 16, 2024
ISBN: 978-1-941551-39-4
Washington Writers' Publishing House is a non-profit (501c3), cooperative literary press in continuous operation since 1975. The press sponsors three annual competitions for writers living in DC, Maryland, and Virginia. The winners of each category (one in poetry, fiction, and creative nonfiction) comprise our annual slate. In 2021, WWPH launched an online literary journal, WWPH WRITES, to expand our mission to further the creative work of new and established writers in our region. The press will celebrate its 50th anniversary year in 2025.
Congratulations to our 2023 MANUSCRIPT WINNERS IN POETRY, FICTION, AND CREATIVE NONFICTION…
The Washington Writers' Publishing House is thrilled to announce the 2023 winners of its annual poetry, fiction, and first-ever creative nonfiction manuscript contest: K. Avvirin Berlin of Charlottesville, VA, for her poetry collection, Leda's Daughters, Len Kruger of Washington, DC for his novel, Bad Questions, and Bernardine ("Dine") Watson of Washington, DC for her TRANSPLANT: A Memoir. Each writer will receive $1,500, editorial guidance, publication by The Washington Writers' Publishing House in October 2023, and launch support.
The 2023 WWPH poetry runner-up is Emotion Industry by Tracy Dimond. Poetry finalists include Bone/Blood/Blossom by Mandy May, Close Attention to Things by Jason Gebhardt, Cruise Ship by Nino McQuown, Imagine his Mother Witnessing by Carolyn Joyner, Steady, Girl by Leona Sevick, and To Name All the Birds in the Body by Laura Smith.
The 2023 fiction finalists include Midwatch by Jillian Danback and Let the Night Be Dark by Melanie McCabe. No finalists were named for the inaugural creative nonfiction award.
The manuscript contests are judged by members of WWPH, all of whom are all past contest winners. All manuscripts are considered blind. With record submissions this year, the judges noted the following about the WWPH 2023 selected works:
"K. Avvirin Berlin's poetry sings of the ways that myth undergirds all that we see while it reminds us of the material bodies we must use to approach such stories. Leda's Daughters re-illuminates those myths that surround us, and like an art conservator using language as her restorative tool, Berlin brushes away what has become too familiar so that she might reveal some startling, new way of experiencing that which has been concealed just beneath the surface. We are honored to name it this year's winner, and we are excited to make a home for it at WWPH." –Tonee Moll, 2022 winner of the Jean Feldman Poetry Award for You Cannot Save Here
"Insightful and poignant, Len Kruger's writing glitters with keen observations of suburban Maryland in the early '70s. An adult's story seen from a young boy's point of view, this novel rings with emotional truths that resonate vividly and viscerally today."
–Suzanne Feldman, 2022 winner of the WWPH Fiction Award for
The Witch Bottle and Other Stories
"A page-turning, personal journey into one Black woman's battle with kidney disease and the American medical system, Bernardine ("Dine") Watson's memoir is at once a truth-telling and an affirmation of the life force propelling us all toward love and hope. A vibrant, powerful portrait of what it means to be Black, female, and confronting a deadly disease in today's America."
–Caroline Bock, co-president, WWPH, winner of the WWPH Fiction Award for
Carry Her Home
ABOUT THE 2023 WINNERS:
K. Avvirin Berlin is an Assistant Professor of English at Washington and Lee University. She holds a Ph.D. in American Studies and Ethnicity from USC, an M.A. in American Indian Studies from UCLA, and a B.A. in Liberal Arts from Sarah Lawrence College. Her poems have been published in The Georgia Review, Boston Review online, Women's Studies Quarterly, and Beloit Poetry Journal. Her scholarship on Sojourner Truth and Black feminism is forthcoming in Nineteenth-Century Literature; scholarly reviews have appeared in Women's Review of Books. She lives in Charlottesville, Virginia with her husband and their two cats.
Len Kruger lives in Washington, DC. His short fiction has appeared in Zoetrope: All Story, The Barcelona Review, The Potomac Review, Gargoyle, Splonk, and the anthology, This is What America Looks Like: Fiction and Poetry from DC, Maryland, and Virginia. He is a graduate of the MFA Program at the University of Maryland.
Bernardine (Dine) Watson is a nonfiction writer and poet, originally from Philadelphia but now lives in Washington, DC. She has written on social policy issues for numerous major foundations, nonprofit organizations, The Washington Post's Health and Science section and She the People blog. Her poetry has been published in numerous journals and anthologies, including Beltway Poetry Quarterly, Bourgeon, Rising Voices (University Professors Press), Sanctuary (Darkhouse Books), and The Great World of Days (Day Eight Arts). Dine is a member of the 2015 class of the DC Commission on Arts and Humanities Poet in Progress Program and was selected to participate in the 2017 and 2018 classes of the Hurston Wright Foundation's Summer Writers' Workshop for Poetry. She is a member of Day Eight Art's Board of Directors.
.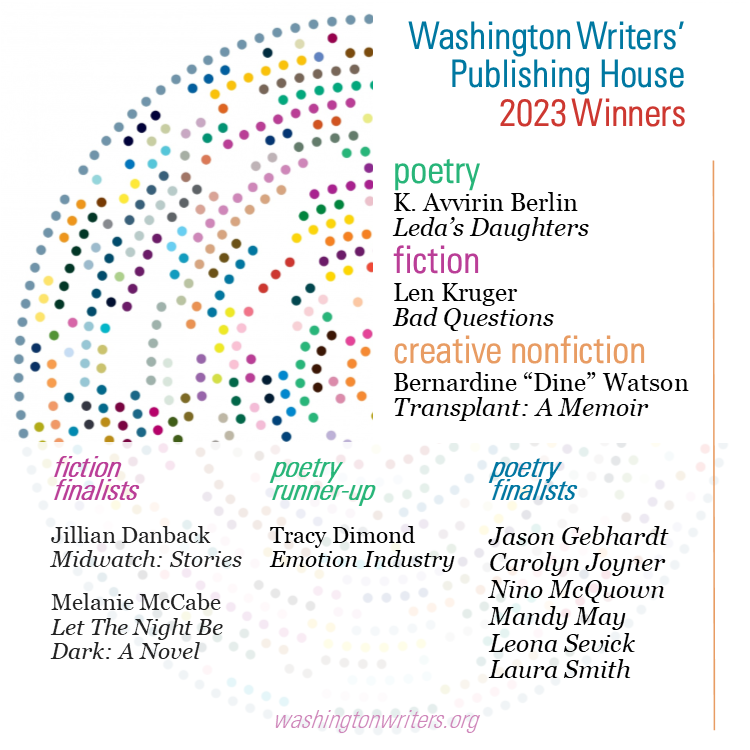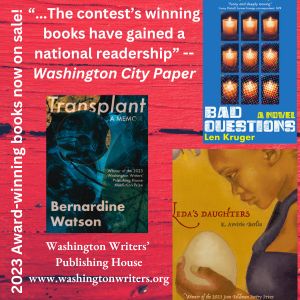 ---
CONGRATULATIONS to our 2022 Fiction and Poetry Manuscript Winners! The 2023 WWPH Manuscript Contest Opens on September 1st for poetry, fiction, and new in 2023, creative nonfiction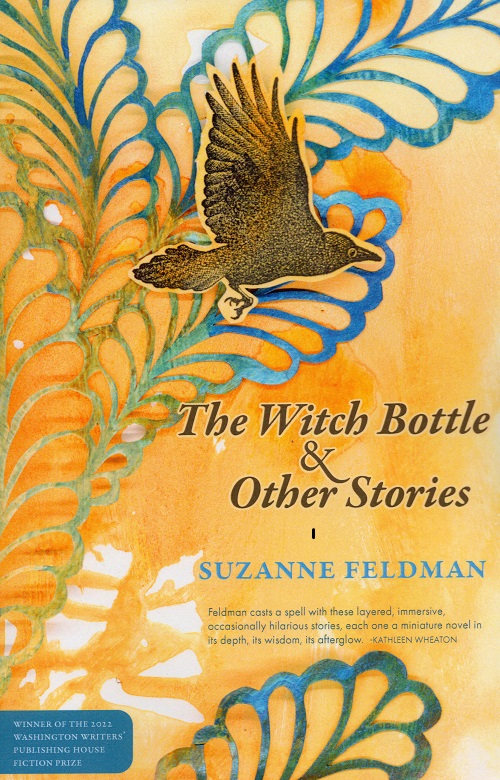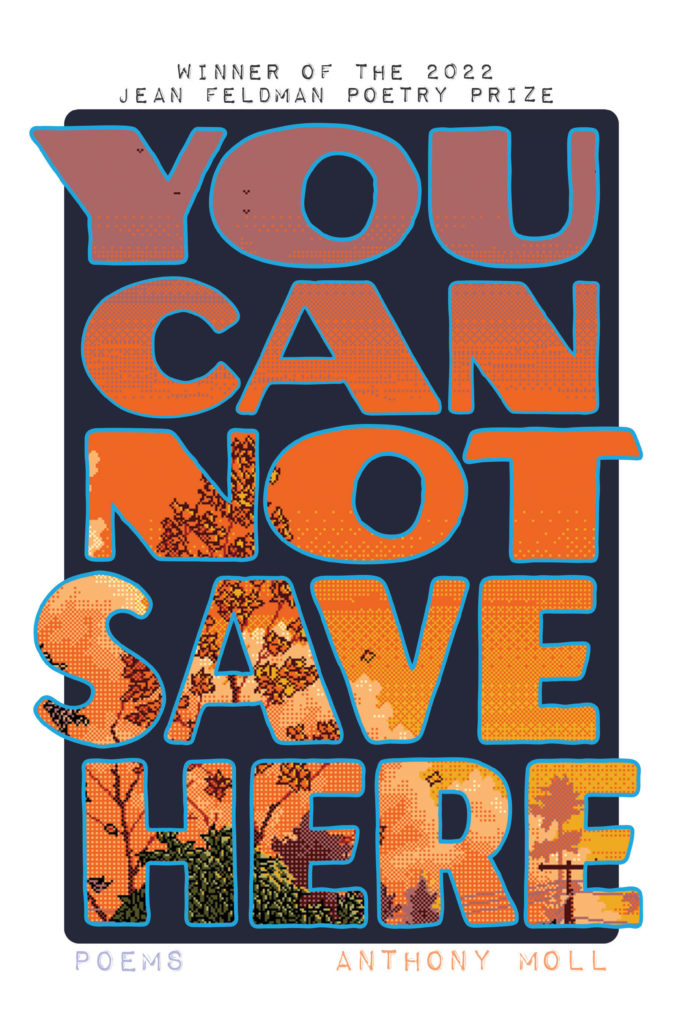 Our 2022 Jean Feldman Poetry Winner! You Cannot Save Here by Anthony Moll. Publication date: September 28, 2022. Learn more about Anthony Moll here. Purchase here.
---
---
Congratulations to our WWPH Fiction and Poetry Contest 2021 Winners
CONGRATULATIONS! To our 2020 poetry and fiction award winners!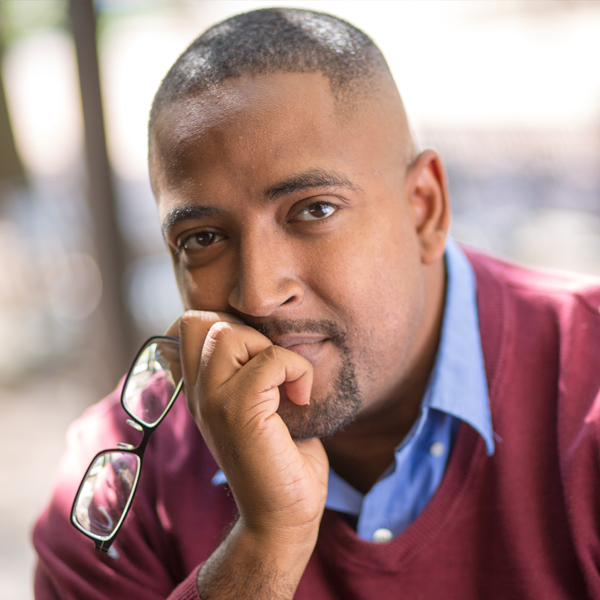 Steven Leyva is the winner of the 2020 Jean Feldman Poetry Award for his collection, THE UNDERSTUDY'S HANDBOOK. Leyva was born in New Orleans, Louisiana and raised in Houston, Texas. His poems have appeared or are forthcoming in 2 Bridges Review, Scalawag, Nashville Review, jubilat, Vinyl, Prairie Schooner, and Best American Poetry 2020. He is a Cave Canem fellow and author of the chapbook Low Parish. Steven holds an MFA from the University of Baltimore, where he is an assistant professor in the Klein Family School of Communications Design.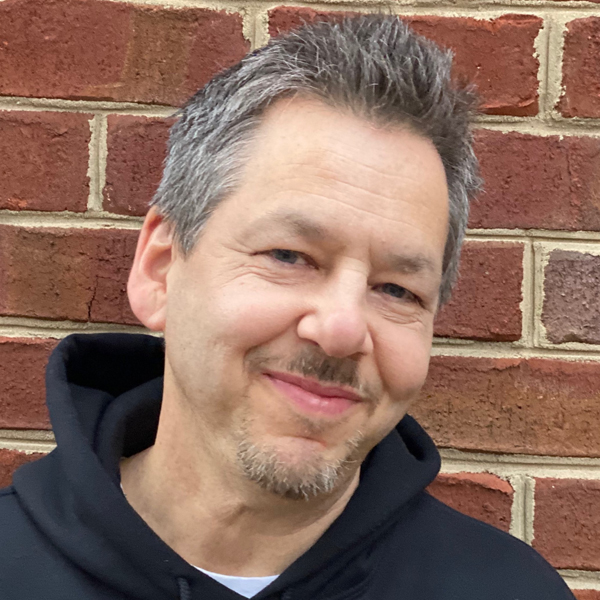 Adam Schwartz is the winner of the 2020 Fiction Award for his short story collection, THE REST OF THE WORLD. Schwartz's stories have won Poets & Writers' WEX Award, Philadelphia Stories' Marguerite McGlinn contest, Baltimore City Paper's story contest and have been published in Arkansas Review, Mississippi Review, The Doctor T.J. Eckleburg Review, Little Patuxent Review, Saranac Review and december Magazine. He has stories forthcoming in Gargoyle and the Raritan. His non-fiction has appeared in the Baltimore Sun, New York Daily News, and Bethesda Magazine. For twenty-two years, he has taught high school in Baltimore City.
Each writer will receive print and ebook publication of their collection, scheduled for October, 2020, a launch reading at Politics & Prose in Washington D.C., and a cash award of $1,000. The Washington Writers' Publishing House, a venerable small nonprofit, cooperative press established in 1973, publishes one book of poetry and fiction from a writer living within 75 miles of our nation's capital each year.
In addition, we were thrilled with the outstanding breadth and depth of the entries this year, and for the first time in our history, wish to note Finalists in each category. FINALISTS in poetry are (in alphabetical order): Mirande Bissell for STALIN AT THE OPERA; Adam Chiles for BLUFF; Melanie McCabe for IF THERE ARE GHOSTS and Emily Tuszynska for FLOWERS, MOON. The FINALIST honor in fiction is awarded to Suzanne Feldman for her short story collection THE WITCH BOTTLE.
---

WWPH is a proud recipient of a CREATIVITY GRANT from the Maryland State Arts Council