2023 MANUSCRIPT WINNERS IN POETRY, FICTION, AND CREATIVE NONFICTION…
The Washington Writers' Publishing House is thrilled to announce the 2023 winners of its annual poetry, fiction, and first-ever creative nonfiction manuscript contest: K. Avvirin Berlin of Charlottesville, VA, for her poetry collection, Leda's Daughters, Len Kruger of Washington, DC for his novel, Bad Questions, and Bernardine ("Dine") Watson of Washington, DC for her TRANSPLANT: A Memoir. Each writer will receive $1,500, editorial guidance, publication by The Washington Writers' Publishing House in October 2023, and launch support.
The 2023 WWPH poetry runner-up is Emotion Industry by Tracy Dimond. Poetry finalists include Bone/Blood/Blossom by Mandy May, Close Attention to Things by Jason Gebhardt, Cruise Ship by Nino McQuown, Imagine his Mother Witnessing by Carolyn Joyner, Steady, Girl by Leona Sevick, and To Name All the Birds in the Body by Laura Smith.
The 2023 fiction finalists include Midwatch by Jillian Danback and Let the Night Be Dark by Melanie McCabe. No finalists were named for the inaugural creative nonfiction award.
The manuscript contests are judged by members of WWPH, all of whom are all past contest winners. All manuscripts are considered blind. With record submissions this year, the judges noted the following about the WWPH 2023 selected works:
"K. Avvirin Berlin's poetry sings of the ways that myth undergirds all that we see while it reminds us of the material bodies we must use to approach such stories. Leda's Daughters re-illuminates those myths that surround us, and like an art conservator using language as her restorative tool, Berlin brushes away what has become too familiar so that she might reveal some startling, new way of experiencing that which has been concealed just beneath the surface. We are honored to name it this year's winner, and we are excited to make a home for it at WWPH." –Tonee Moll, 2022 winner of the Jean Feldman Poetry Award for You Cannot Save Here
"Insightful and poignant, Len Kruger's writing glitters with keen observations of suburban Maryland in the early '70s. An adult's story seen from a young boy's point of view, this novel rings with emotional truths that resonate vividly and viscerally today."
–Suzanne Feldman, 2022 winner of the WWPH Fiction Award for
The Witch Bottle and Other Stories
"A page-turning, personal journey into one Black woman's battle with kidney disease and the American medical system, Bernardine ("Dine") Watson's memoir is at once a truth-telling and an affirmation of the life force propelling us all toward love and hope. A vibrant, powerful portrait of what it means to be Black, female, and confronting a deadly disease in today's America."
–Caroline Bock, co-president, WWPH, winner of the WWPH Fiction Award for
Carry Her Home
ABOUT THE 2023 WINNERS:
K. Avvirin Berlin is an Assistant Professor of English at Washington and Lee University. She holds a Ph.D. in American Studies and Ethnicity from USC, an M.A. in American Indian Studies from UCLA, and a B.A. in Liberal Arts from Sarah Lawrence College. Her poems have been published in The Georgia Review, Boston Review online, Women's Studies Quarterly, and Beloit Poetry Journal. Her scholarship on Sojourner Truth and Black feminism is forthcoming in Nineteenth-Century Literature; scholarly reviews have appeared in Women's Review of Books. She lives in Charlottesville, Virginia with her husband and their two cats.
Len Kruger lives in Washington, DC. His short fiction has appeared in Zoetrope: All Story, The Barcelona Review, The Potomac Review, Gargoyle, Splonk, and the anthology, This is What America Looks Like: Fiction and Poetry from DC, Maryland, and Virginia. He is a graduate of the MFA Program at the University of Maryland.
Bernardine (Dine) Watson is a nonfiction writer and poet, originally from Philadelphia but now lives in Washington, DC. She has written on social policy issues for numerous major foundations, nonprofit organizations, The Washington Post's Health and Science section and She the People blog. Her poetry has been published in numerous journals and anthologies, including Beltway Poetry Quarterly, Bourgeon, Rising Voices (University Professors Press), Sanctuary (Darkhouse Books), and The Great World of Days (Day Eight Arts). Dine is a member of the 2015 class of the DC Commission on Arts and Humanities Poet in Progress Program and was selected to participate in the 2017 and 2018 classes of the Hurston Wright Foundation's Summer Writers' Workshop for Poetry. She is a member of Day Eight Art's Board of Directors.
.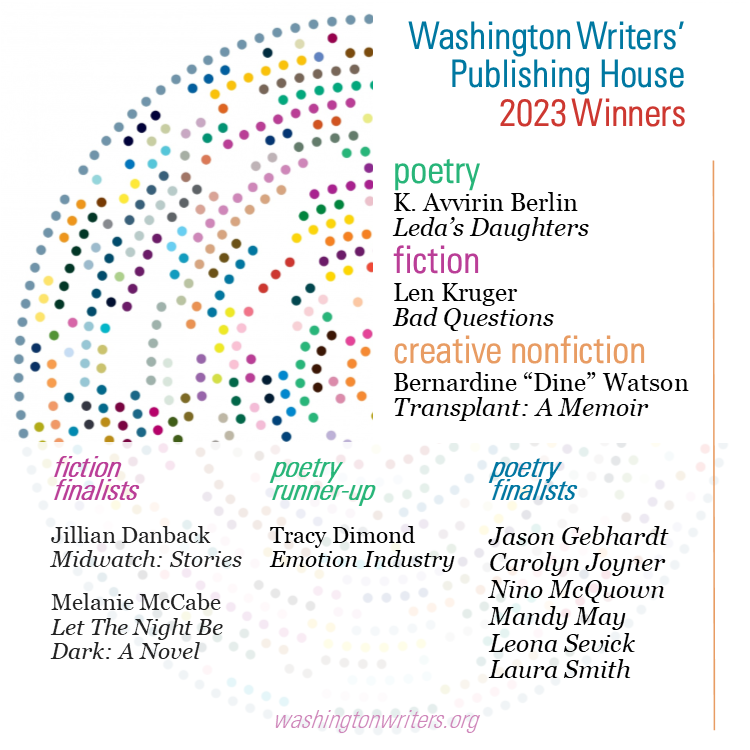 ---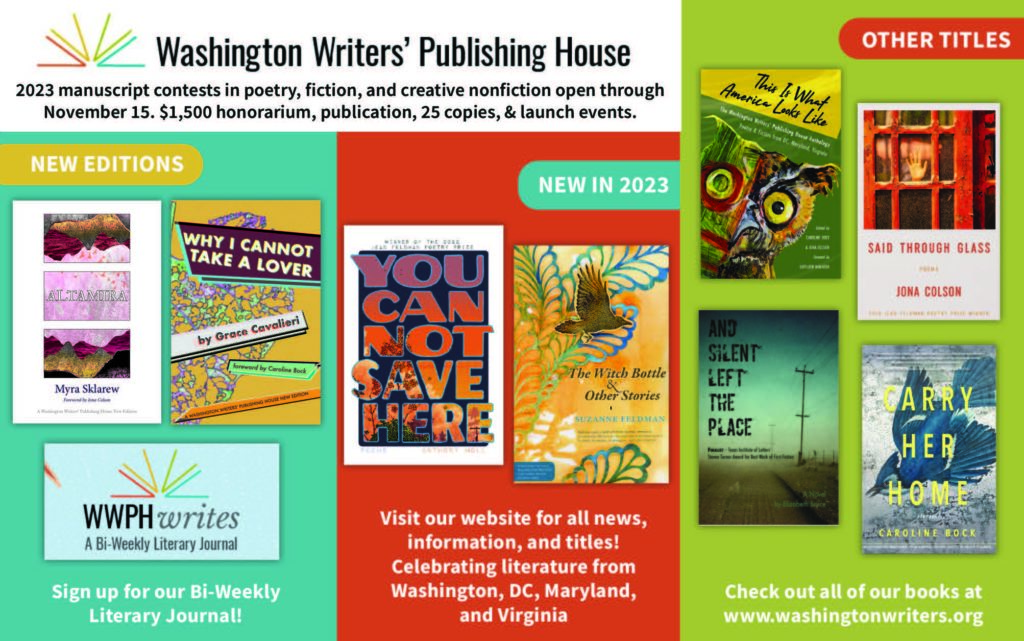 CONGRATULATIONS to our 2022 Fiction and Poetry Manuscript Winners! The 2023 WWPH Manuscript Contest Opens on September 1st for poetry, fiction, and new in 2023, creative nonfiction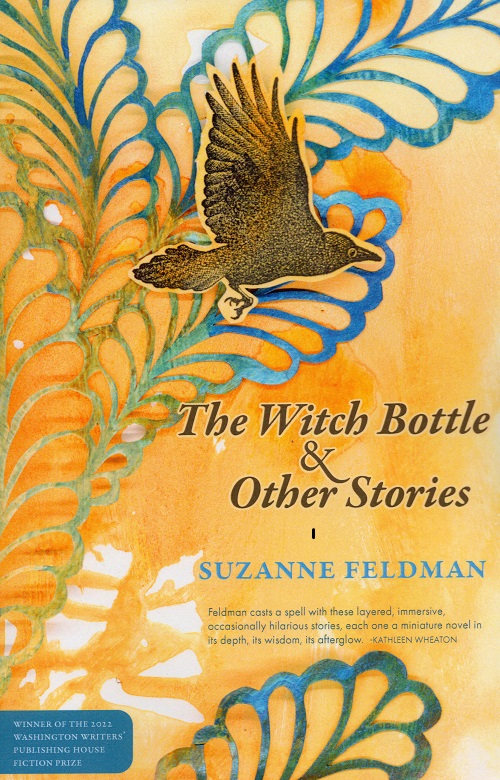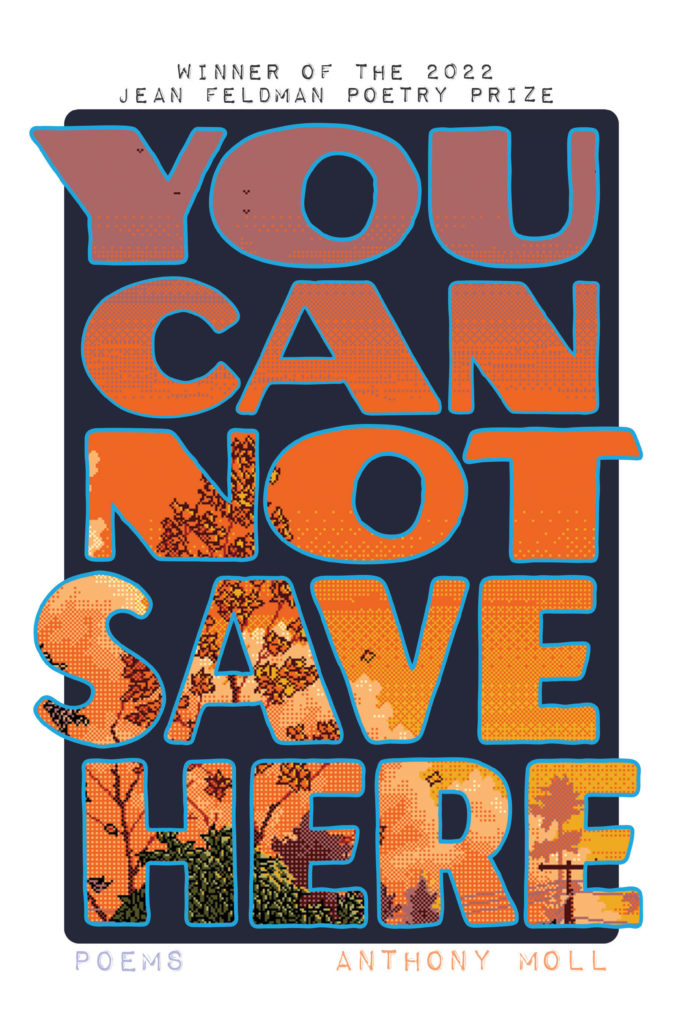 Our 2022 Jean Feldman Poetry Winner! You Cannot Save Here by Anthony Moll. Publication date: September 28, 2022. Learn more about Anthony Moll here. Purchase here.
INTERVIEW with WWPH AUTHORS ON THEIR NEW EDITIONS
Elizabeth Bruce and Sid Gold, longtime members of WWPH, interview one another on the re-issue of their WWPH award-winning titles: AND SILENT LEFT THE PLACE and WORKING VOCABLUARY . Their works have been reprinted by WWPH on October 15, 2021 with new introductions by Kathleen Wheaton and Holly Karpetkova–and our now available in our WWPH Bookshop.
Read on about their inspirations and insights into the writing process…
EB: I loved your book. I loved Holly's introduction too. So many of the poems in WORKING VOCABULARY are narrative and character-based. As a non-poet I sometimes find poetry cryptic. But I'm able to follow all your work and immerse myself as a reader in the flesh and blood realities of these viscerally real characters.
As a poet, where do you begin to capture these compressed portraits of lives and stories? With a moment—real or imagined—in which the focal character interacts with his (and they are mostly guys) world? With the character's presence: his look, his mannerisms, his countenance, speech, history, stories?
SID: I don't go about it like a fiction writer does. Working Vocabulary contains a lot of narrative poems.
Fiction writers or readers might wonder why some didn't become short stories, but I thought of them as snapshots. They often began with a random memory of a situation or person–just free play of the imagination when waiting in line or driving. I'd get a line—often imagistic or poetic–that would be an entry point if it were vivid or meaningful enough. If it was going to be narrative and I knew I could tell the story and get to the end I wanted, the next task was to work my way through it from beginning to end. Then you look for details in the images. Where it all comes from, I have no idea. I'm just so thankful when it does.
EB: WORKING VOCABULARY has different sections that focus on their own cast of characters, some working stiffs in poems like "Berry Takes Rye in December" and "Northwest Salvage." Your deep respect and affection for these guys—and gals—and the resonant narratives of their lives is unabashed and poignant. How has this Whitmanesque sensibility been received over the years in the worlds of literary poetry for the page?
SID: People who know it like it. People who see what I'm doing, people I would call "my readership" are receptive. I look for what is often called "a flash of recognition."
EB: So many of the poems in the latter section profile ground-down folks from the streets and barrooms of older American cities. They are rough-hewn bards of the city. Where do these folks go from there? Talk about your insights into the focal characters in poems like "Razor Blade" and "Kelsey's Trick."
SID: There's a lot of Baltimore in there too. "Kelsey's Trick"—that's Buffalo—is based on an actual incident. I got to college at 17 and hung out with guys slightly older who took me to neighborhood bars filled with lost souls looking for solace in alcohol and sex.
EB: WORKING VOCABULARY was published originally about 25 years ago. Many are love songs to neighborhoods and streets of your youth, places that are doubtless much changed or utterly gone now. Or are they? How do these poems resonate with you now? Are they artifacts, testimonials, praise poems, snapshots of forgotten worlds? Do you feel your work allows these place and these folks live on?
SID: New York is still New York, even with all the craziness. New York is always changing and always the same. I don't think a New Yorker who read my poetry about New York, would see it as long ago and far away. No one past a certain age. I have New York poems in my succeeding books too, so while there are events out of my personal past, I don't see them as ancient New York. I'm not trying to preserve the past, like Washington Irving did. That has nothing to do with it. Like Faulkner said, the past is still very much present. I don't think New York is past.
EB: You grew up in the rough-and-tumble of working-class New York and you've done a lot of dirty jobs in your life, yet you emerge as a forger of words on the page. In many poems—like "Happy Hour" and "Draw One" — the speaker of the poem tangles or has history with the brawny or bellicose or belligerent tough guy—or tough gal–of the present action. Talk about the metaphorical qualities of that. The speaker (the poet?) confronted by the rough action of his subject. Is that revelatory? Is that metaphorical?
SID: WE could have long discussions about the difference between an interesting anecdote and poem.
You can have great anecdotes but the anecdote by itself is not a poem. The trick is how do you make the anecdote into a poem? The fiction writer takes the anecdote and tries to build stories around it, more development of characters.
The poetry in WORKING VOCABULARY is loosely biographical, especially the narrative ones, but they're not true to life. The woman in "Draw One," for example, is a former girlfriend who's still a friend. I took a memory and made it into something else. If I showed her the poem and told her it was about her, she'd be stunned. She'd be complimented, but she'd be stunned.
EB: To me, the poems in WORKING VOCABULARY read like the praise poems of other cultures. They don't judge. Rather, they celebrate. They immortalize on the page those who live and labor and love despite the page. Despite the disinterest of the page. Despite their invisibility on the page. They seem written for the ear as much as for the page. Have any/many of the subjects of your poems read them or heard them? If yes, how did they respond?
SID: No, they haven't. The characters in "Arms and the Woman" and "Draw One" were real people. As any writer knows, things have to gestate. Draw One sat for a long time, probably 10 years. But as for the working-class thing, as Arthur Miller said in Death of a Salesman: "Attention must be paid." That slice of our world, those lives deserve respect, and I try to give it. For me it's very real, and I want it to be just as real for other people, but I still want it to be good writing. I want it to be good literature.
EB: There are so many stunning images—referents, metaphors, similes, analogies—like "all shark skin and sharp creases," and "an entire week in a narcotic mist," and "New words bounce and spread like hot coffee emptied in one gulp," and "My patron saint is a saint with no name/from a village found on no map/in a valley no pilgrim can reach." What is your process?
SID: I was in school for a long time, and I read a lot of contemporary poetry. You want to do what you see great poets do. It's a constant search, it's all the crossing out. I had some good teachers who knew how to get people to look at good imagery, 20th century imagery, especially post-World War II.
I admire good narrative writers. I know who my influences are—in fact other people have come up to me and told me who my influences are: Philip Levine, Harvey Shapiro–working class ethnic writers from the generation prior to me, who started publishing in the 50s, 60s and drew upon working class, urban backgrounds. Someone told me once that Philip Levine and I should go on a reading tour together.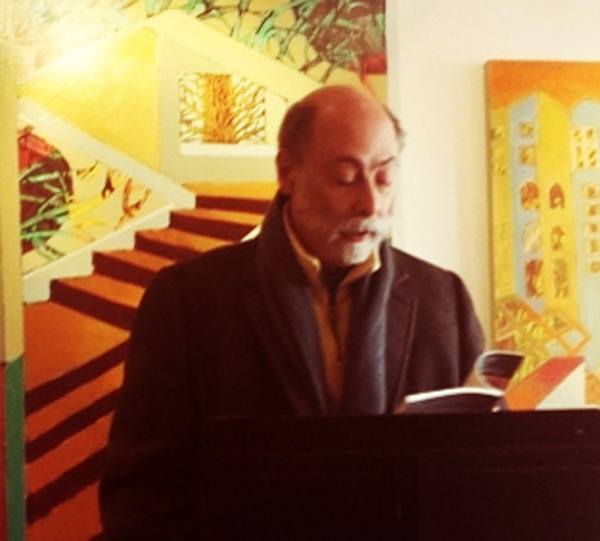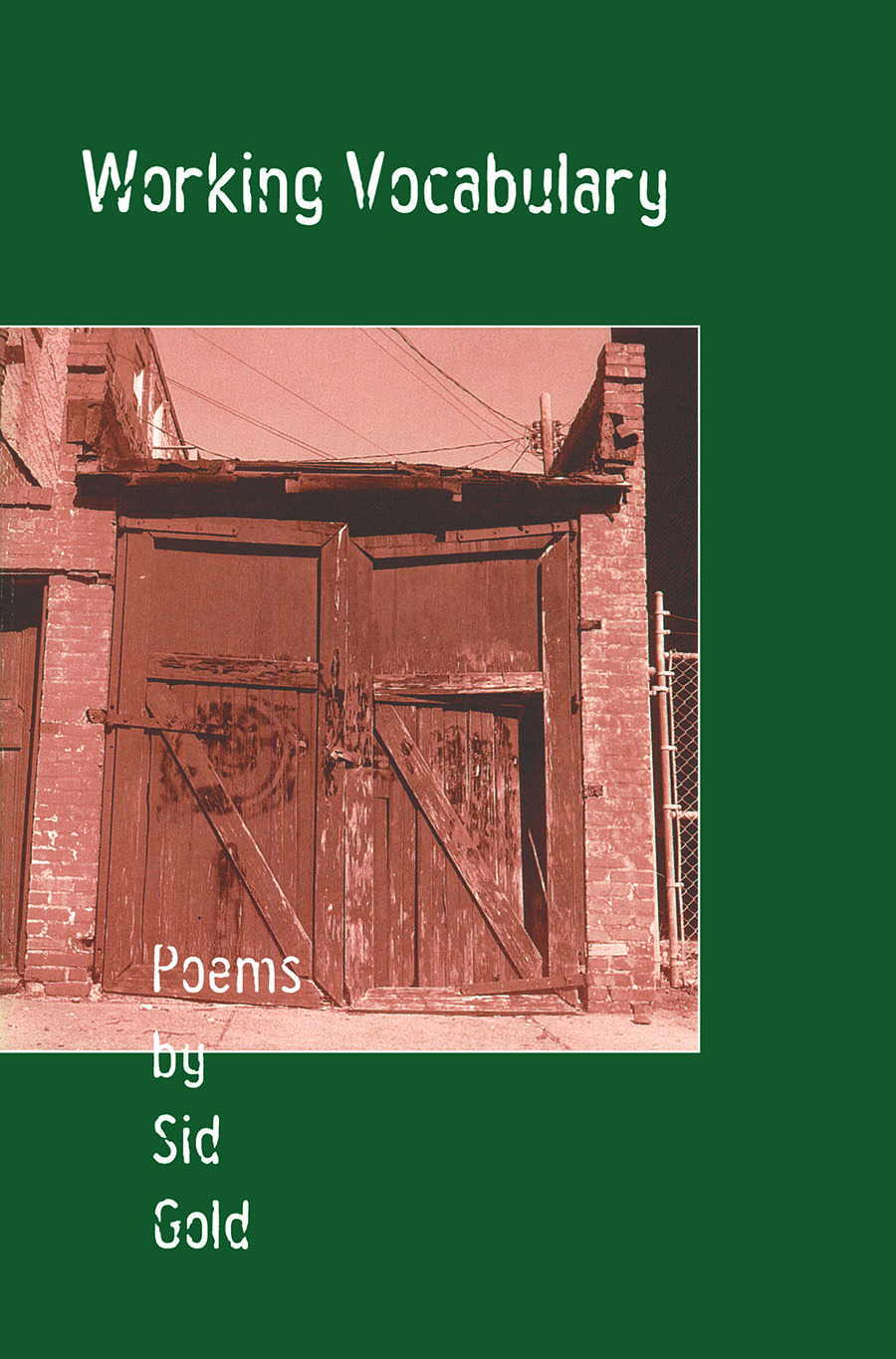 SID: Knowing you're from Texas, does the whole phenomenon of the King Ranch inform AND SILENT LEFT THE PLACE?
EB: Not factually. I knew about the King Ranch, of course. There are many places in the world where local life is dominated by a wealthy family or single industry that controls everything, and I was drawing from that.
SID: But not directly?
EB: The whole novel is based upon a sense of lore–a sense of tall Texas tales runs throughout, but SILENT is not historical fiction. I'm not burdened with remaining true to particular places or events. The Calder Tale is completely invented; the whole thing about the brothel owner Madam Wilma and P.T. Barnum, that's a tall Texas Tale.
SID: How did you come up with the Calder Tale?
EB: The jumping off place for the Calder Tale–that leads to the Calder Ranch– is actually based on a true story of an old friend who was an attorney from a prominent legal family in Houston. He ran away from home at the age of 13 from his "Dynasty" type of family in the mid-1950s, and literally made money selling "leaves of grass Jesus walked on" out of the back of a pick-up.
SID: That's so Faulknerian.
EB: So, the idea that two runaway kids from a bordello in New Orleans could amass a small fortune selling leaves of grass Jesus walked on was based on that story. I actually have a one-dollar story named "The Grass Jesus Walked On" that's an elaboration of the same two characters.
SID: In Faulkner, you see populations who would actually go for that. So, people who know your milieu and come from similar backgrounds would see that this is an extension of the tall Texas tale tradition? That's very enlightening. The rich rancher Ted Calder sees himself as larger than life, hopes he's larger than life, though he might be one of those people who "needed killing."
EB: A very Texas concept.
SID: Since the novel takes place in 1963, Calder struck me as "privileged" before we used that word. He wasn't seen as "privileged" because it's a feudal world. It's how things are in a feudal world. Is that implicit? Is that why its set in an earlier time?
EB: SILENT is set in an earlier time and is about an old man who is from an even earlier time. The Great War was 100+ years ago. Thomas Riley would have been born in the 19th century. So yes, it is purposely set in this era in which people lived very hard lives, there was not a lot of comfort to be had—and yes, there was a feudal quality to the time.
There was profound racism, profound exploitation at the time of World War One and beyond. The racial massacres of Red Summer of 1919 in Tulsa, Longview, Houston. All of that is a kind of grotesque extremism that informs the present action in 1963. And because he's of this earlier time, Riley bears a moral burden in a way we don't bear moral burdens anymore, we "modern folk." The concept of atonement is an ancient concept. I attempted to present Riley in a mythic framework with an ancient act of atonement.
SID: He's the sacrifice that's going to keep the rest of society on an even keel. It harkens back to the Crucifixion.
EB: That equation of sacrifice doesn't jive with modern psychology, modern sociology. It's just not a contemporary concept, so it's really important for novel and backstory to be set in this earlier time.
SID: The novel is set during the last years in this country where that kind of thing could actually occur. A few years later, we're in the 60s. The novel's set in 1963, but it's not what we think of as the 60s yet.
EB: Vietnam is just getting started. It was before the modern era, at least in a backcountry rural place.
SID: When you first realize the book is about a man who doesn't speak, you think it's going to have the constant mental gymnastics of a consciousness—that It's going to be slow moving, but that's not what the book turns out to be. It's not like Beckett.
You wonder at what point is Riley going to start talking. It almost becomes a mystery novel. You think OK, he's got to talk to save this girl, or her boyfriend, that this is going to be when he talks.
EB: Right, the mystery of the novel is: why doesn't Thomas Riley speak?
SID: It's not a long book, and but somehow you manage to put every brick in place.
EB: It is a very spare, very short book. I tell people it's a 3-hour plane ride. I intentionally wrote in an extremely plain-spoken style. There are no big words in it.
SID: It's a very interesting combination of very little happening but a lot happening.
SID: It is like a play.
EB: In some ways it's more like a film than a play. It would be way too expensive to put all a bulldozer ballet onstage!
SID: But it's theatrical.
EB: Yes, it is an utterly auditory novel. It's completely written aloud. There's a lot of white space on the actual page, a lot of air, because I wanted to slow the reader down. There's a cadence and a rhythm that informs every single line. Words are repeated because of the cadence. It has a storytelling voice that's drawn from oral traditions more than lettered traditions. It is absolutely not a cerebral book.
SID: And a main character who doesn't speak.
EB: I've been inventive in solving the problem of how Thomas Riley is going to fix these problems without speaking. I have all these devices, the most important of which is this tape recorder he uses in his underground hole to speak to his beloved wife.
SID: At the beginning, we're wondering why this hole exists, but you're able to intuit why he's not speaking. Why Riley will lose a marriage with a wonderful, wonderful person. He can't even tell the only really important person in his life. There are people who come back from war like that. They just shove it far down so deep. The only way Riley can live with it is to withdraw into a shell of himself.
EB: Which is also why the novel had to be written in an earlier time. People say Riley has PTSD, shell shock, battle fatigue. And that's true, but SILENT is not a clinical book. I did not delve deeply into the symptoms and pathology of PTSD. To me Riley is silent because he is keeping the vow that he made in a state of delirium and trauma, and it makes sense to him. It's a kind of moral bargain that he's not talked out of through modern therapy or medication or other treatments that are all wonderful in terms of reliving veterans and traumatized people from their suffering. But Riley's silence is Greek in that there is no wiggling out it. SlLENT is also like Greek drama in that it takes place in 24 hours.
SID: It adheres to the old classical structures of drama.
EB: At the stylistic level, there's also this collective townspeople that are continually referenced in phrases like "Folks had come to understand" or "the preachers said." I liken this unnamed collective community to a Greek chorus that chimes in every now and them.
SID: There are a lot of characters but all of them are instructive. Anyone who has a speaking role has a real significance in moving things forward. Even Tukane.
EB: Tukane is based on a real guy. Back in 1975 I went down to visit an old college friend in Guatemala, and I took the bus back through Mexico to the Texas border. There was this British fellow on the bus who was traveling around the States. When we got to Houston, we went over to the Terminal Bar and Grill, like in the Tom Waits song. A real dive bar. We're both really scruffy, having been in a bus for 24 hours, and this middle-aged guy sits down and does this card trick and tells us all about his wife leaving him. So, we sat there all night drinking with this fellow who just wanted some company.
SID: In the beginning, you don't expect SILENT to be a story of redemption. You really don't. I found the two women—Dolores and Evangeline–to be almost like Madonna figures. Like sacred figures waiting for the cleansed individual now be able to approach them again. Almost otherworldly, saintly.
EB: Absolutely, at heart SILENT is also a love story of love reclaimed late in life.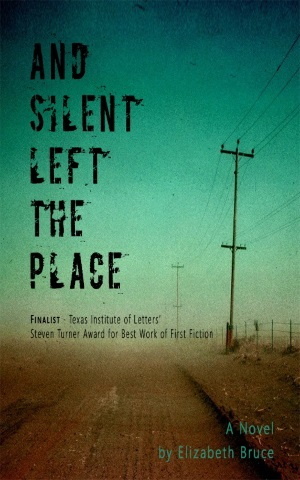 –f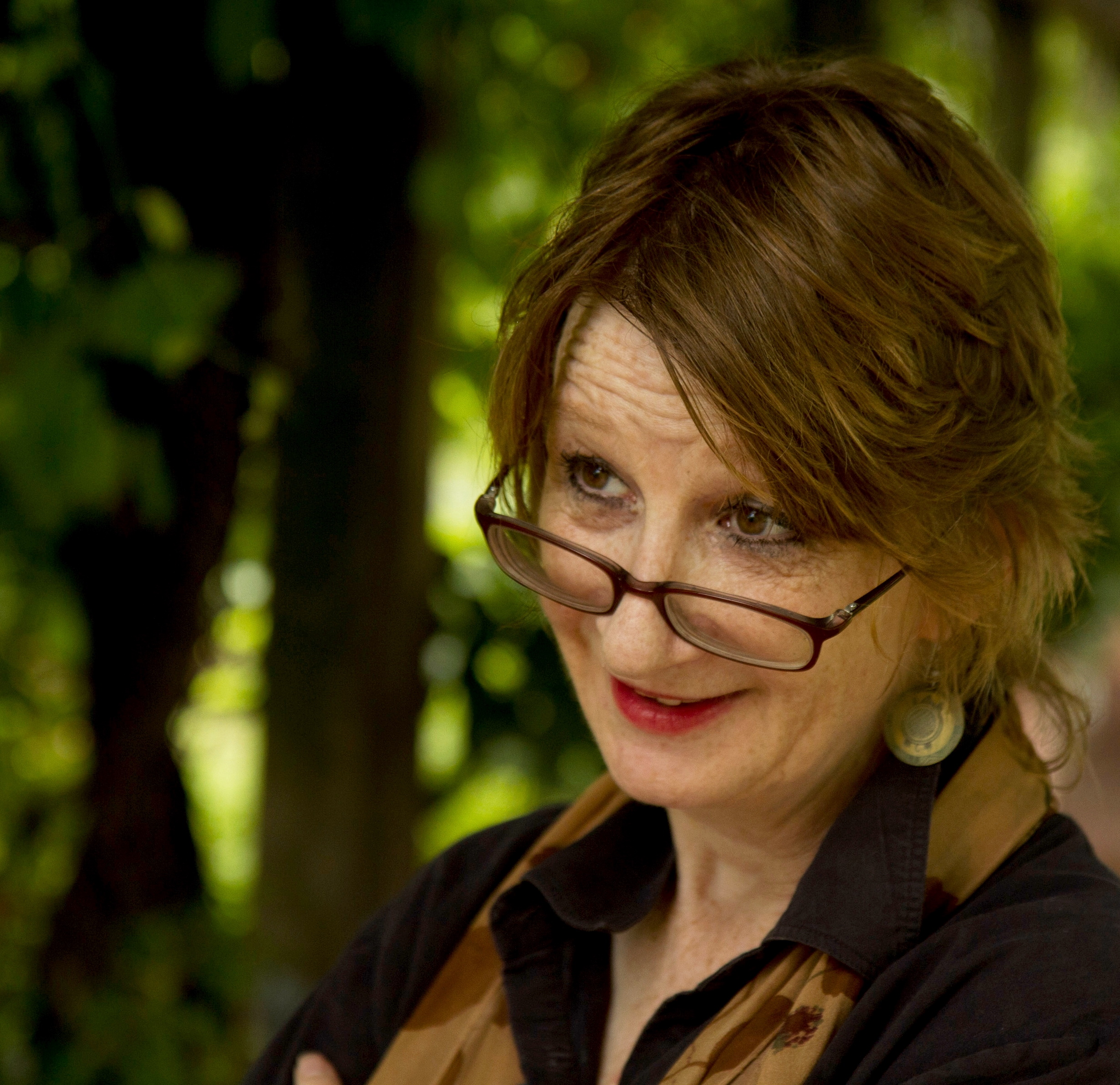 find more about Elizabeth here
---
---
---
WWPH Fiction and Poetry Contest 2021 Winners Announced
CONGRATULATIONS! To our 2020 poetry and fiction award winners!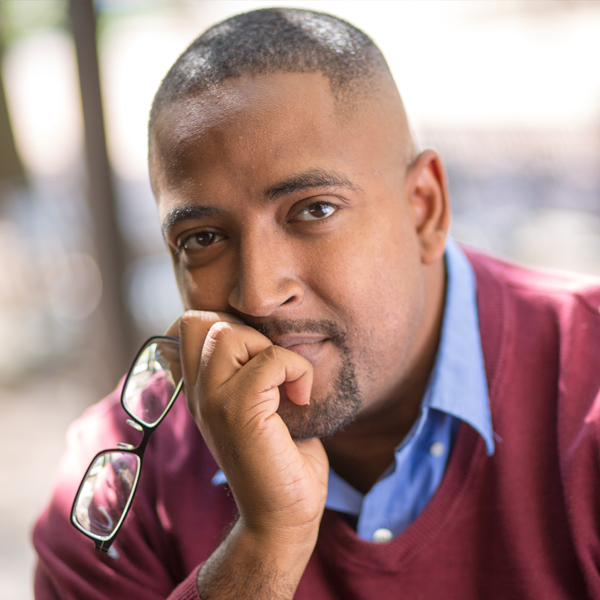 Steven Leyva is the winner of the 2020 Jean Feldman Poetry Award for his collection, THE UNDERSTUDY'S HANDBOOK. Leyva was born in New Orleans, Louisiana and raised in Houston, Texas. His poems have appeared or are forthcoming in 2 Bridges Review, Scalawag, Nashville Review, jubilat, Vinyl, Prairie Schooner, and Best American Poetry 2020. He is a Cave Canem fellow and author of the chapbook Low Parish. Steven holds an MFA from the University of Baltimore, where he is an assistant professor in the Klein Family School of Communications Design.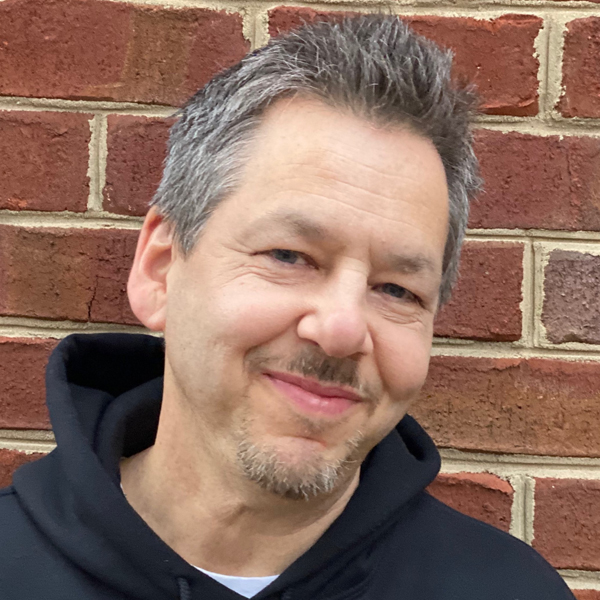 Adam Schwartz is the winner of the 2020 Fiction Award for his short story collection, THE REST OF THE WORLD. Schwartz's stories have won Poets & Writers' WEX Award, Philadelphia Stories' Marguerite McGlinn contest, Baltimore City Paper's story contest and have been published in Arkansas Review, Mississippi Review, The Doctor T.J. Eckleburg Review, Little Patuxent Review, Saranac Review and december Magazine. He has stories forthcoming in Gargoyle and the Raritan. His non-fiction has appeared in the Baltimore Sun, New York Daily News, and Bethesda Magazine. For twenty-two years, he has taught high school in Baltimore City.
Each writer will receive print and ebook publication of their collection, scheduled for October, 2020, a launch reading at Politics & Prose in Washington D.C., and a cash award of $1,000. The Washington Writers' Publishing House, a venerable small nonprofit, cooperative press established in 1973, publishes one book of poetry and fiction from a writer living within 75 miles of our nation's capital each year.
In addition, we were thrilled with the outstanding breadth and depth of the entries this year, and for the first time in our history, wish to note Finalists in each category. FINALISTS in poetry are (in alphabetical order): Mirande Bissell for STALIN AT THE OPERA; Adam Chiles for BLUFF; Melanie McCabe for IF THERE ARE GHOSTS and Emily Tuszynska for FLOWERS, MOON. The FINALIST honor in fiction is awarded to Suzanne Feldman for her short story collection THE WITCH BOTTLE.
---

WWPH is a proud recipient of a CREATIVITY GRANT from the Maryland State Arts Council