---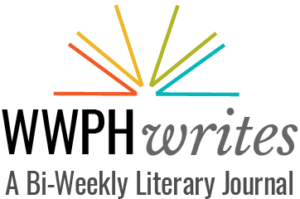 ---
---
Welcome to Issue 38
In this issue, we have a dichotomy of good and evil. The poem, "HIV Nightline" by Lane Falcon is about volunteering and "the spool of night unraveling." Heartbreaking poetry. The trio of microfictions under the title "Bad People," by Christie Chapman are also gems, the kind of tiny stories I love for their precision and punch.
Plus, we have opportunities for you! We have our second annual WWPH WRITES THE HOLIDAYS contest with prizes of $100 and $50 in poetry and prose (fiction or creative nonfiction) judged by poet Brandel France de Bravo. We also have a first-time opportunity: the WWPH Fellowships. These are spring and summer opportunities to learn and work with the Washington Writers' Publishing House and have a $500 stipend attached. Deadlines for our contest and fellowships are coming up in early December.
Read on!
Caroline Bock
co-president/fiction editor
WWPH Writes: Poetry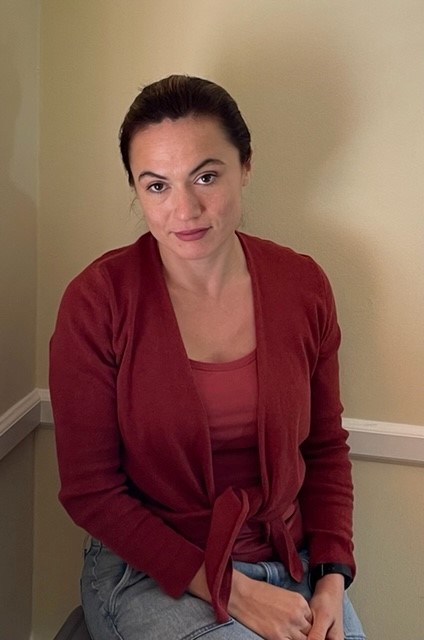 ---
Lane Falcon's poems have been published in American Poetry Journal, The Carolina Quarterly, The Chattahoochee Review, Fifth Wednesday Journal, Harbor Review, The Journal, Mayday Magazine, New York Quarterly, Poet Lore, Qu, Rhino, Spoon River Poetry Review, Tar River Poetry, and more. Her manuscript "Deep Blue Odds" was selected as a finalist for the 2022 Black Lawrence Press Hudson Prize, and semi-finalist for the 2022 Tupelo PressBerkshire Prize and the Inaugural Laura Boss Narrative Poetry Prize. She lives in Alexandria, VA with her two children and dog.
---
HIV Nightline, San Francisco 2002

I volunteered to listen—the voice 
on the other end sometimes 

a spool of night unravelling, 
some poor mother's son said he deserved it, 	

or a "manic-depressive" in a phone booth 
in Chicago: I got to go 

to another phone. Some nights, 
the red light blinked as someone tried to call,
 
call again, and I couldn't pause
another crying         
		long enough 

to even ask them to hold. 
I wanted to help, from the safe side 

of the screen, I wanted their pain 
to immunize me. Even then 

I knew it was pure lottery.

 © Lane Falcon 2022  

WWPH Writes: Fiction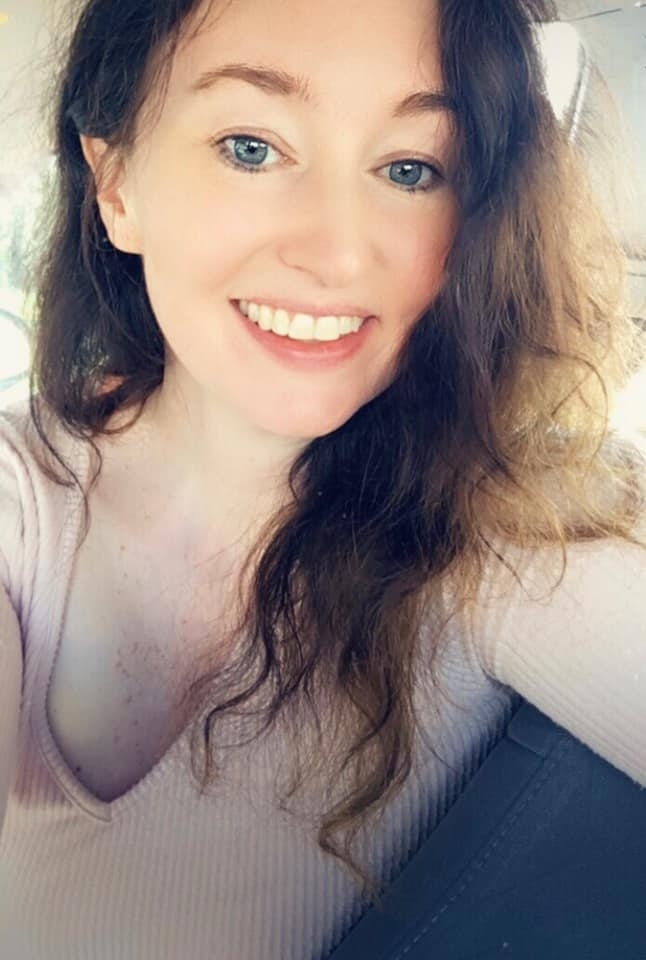 Christie Chapman is a writer, journalist, and mom in Springfield, VA. She is a participant in George Washington University's Jenny McKean Moore Short-Fiction Workshop and participated in the JMM Creative-Nonfiction Workshop in Fall of 2020. Her short story "Enablers" was a finalist in a national contest held by The Lascaux Review.
---
Bad People: Microfictions
---
Spare Change
The woman in the reindeer sweater dress and jingle-bell necklace and Santa hat and elf boots clicked past the panhandlers without breaking her stride because it was always about the accessories.
Driving Drunk
You arrange yourself and glide through the night like a parade float that you hope no one will see.
Cut Off Your Nose
Saint Ebba heard they were coming.
She feared it. She looked forward to it.
Everyone had been looking at maps — this place was right on the path, right in the way.
Vikings didn't ravage the lives of just anybody. She almost felt honored. Her life might mean something after all.
What would they do when they got here? They would take the girls. She wasn't supposed to let that happen. She was in charge. Mother Superior.
There were no men or weapons to protect them, so she had to be clever. She had to twist her mind. It came to her in blackness one night. It excited her. It was terrible; she shivered and sank to sleep.
In the morning, she passed around blades. They would do it if she told them to, especially if she went first. Their faces would be as ravaged and ugly as she was deep in her heart that had wished for this all along.
© Christie Chapman 2022
---
---
---
WWPH Community News
WWPH WRITES THE HOLIDAYS!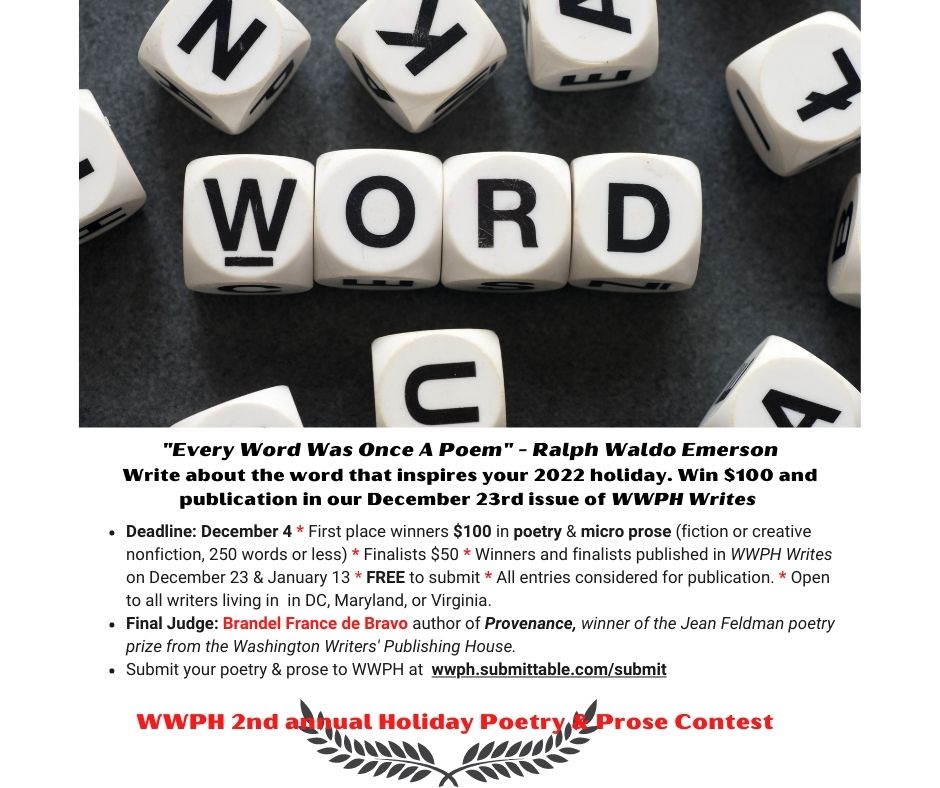 ---
WWPH FELLOWSHIPS
The new WWPH Fellowship provides the opportunity for undergraduates and graduate students, or anyone with a keen interest in the literary small publishing world, to get hands-on experience working with a nonprofit literary press. WWPH Fellows will learn small press publishing from WWPH executive board members and authors while helping advance the press's mission. Each fellow will receive a $500.00 stipend in return for three to four hours of remote work over a ten-week fellowship session supervised by your WWPH co-presidents Caroline Bock and Jona Colson. Deadline for spring 2023 WWPH Fellowship: DECEMBER 6th. More details and how to apply here. Questions? email us at wwphpress@gmail.com and subject line: WWPH Fellowship. Shout out to Dr. Jean Feldman for underwriting this new initiative!
WWPH BOOKSHOP
The WASHINGTON WRITERS' PUBLISHING HOUSE has a Bookshop! BUY OUR AWARD-WINNING BOOKS and help us keep this nonprofit, cooperative, literary press strong for writers and readers like you. Click here and browse all our titles at our bookshop.
WWPH CELEBRATES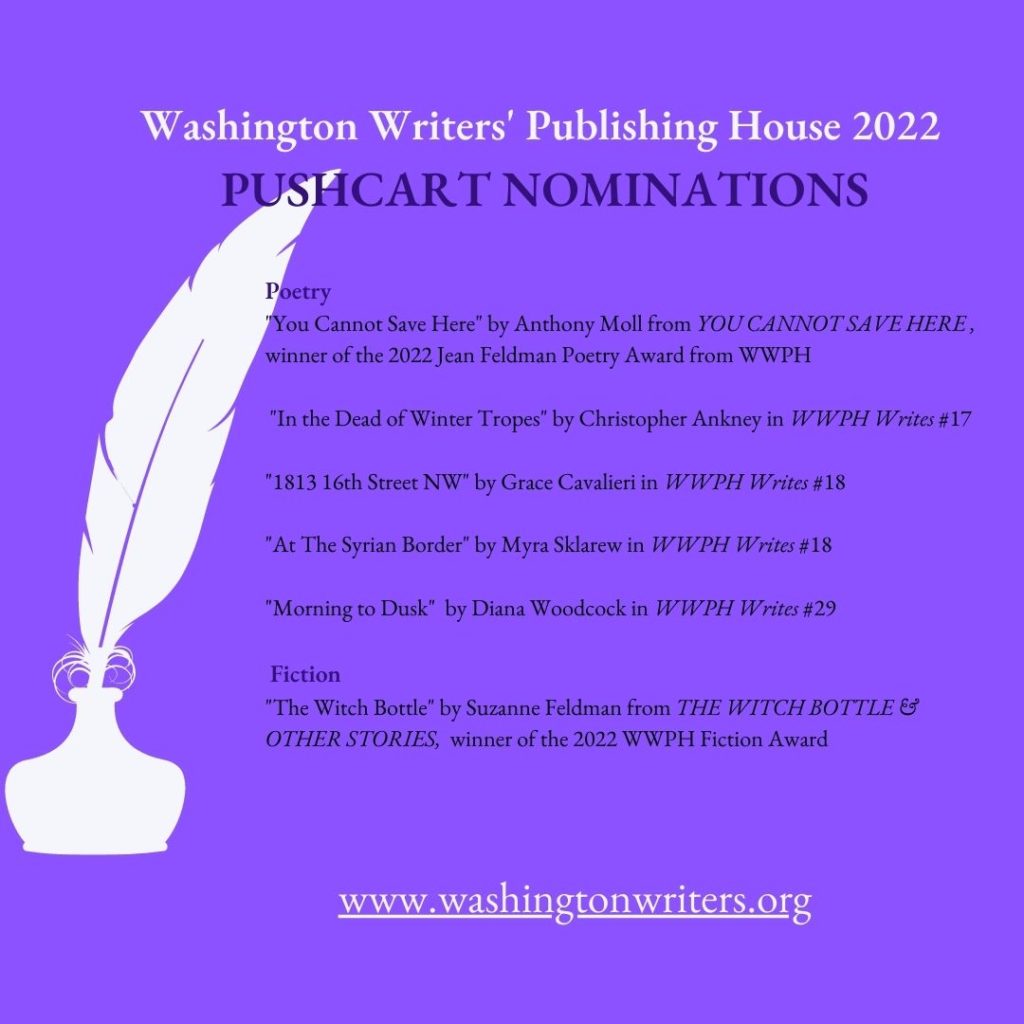 ---
DONATE
In this season of giving, please consider donating to the Washington Writers' Publishing House. We are a cooperative, all-volunteer press and a 501c3 charity. All donations are tax-deductible. Even more, all donations go directly to programs that support publishing writers from Washington DC, Maryland, and Virginia. If you are thinking of a special donation to WWPH, consider sponsorship/naming rights to our annual fiction and creative nonfiction prizes. Donate here. More questions? Contact Caroline Bock and Jona Colson at wwphpress@gmail.com.
---
---
---
Thank you for being part of the WWPH Community!

---
---
---
---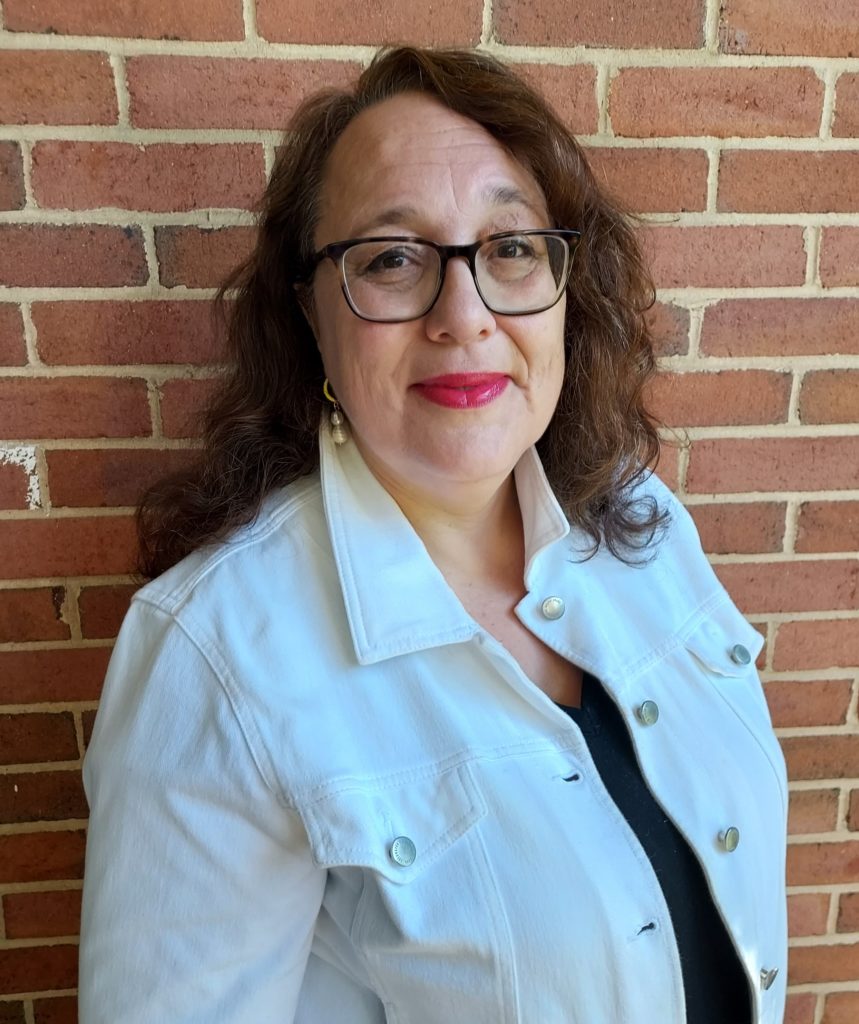 Caroline Bock
Fiction Editor, WWPH Writes
President, WWPH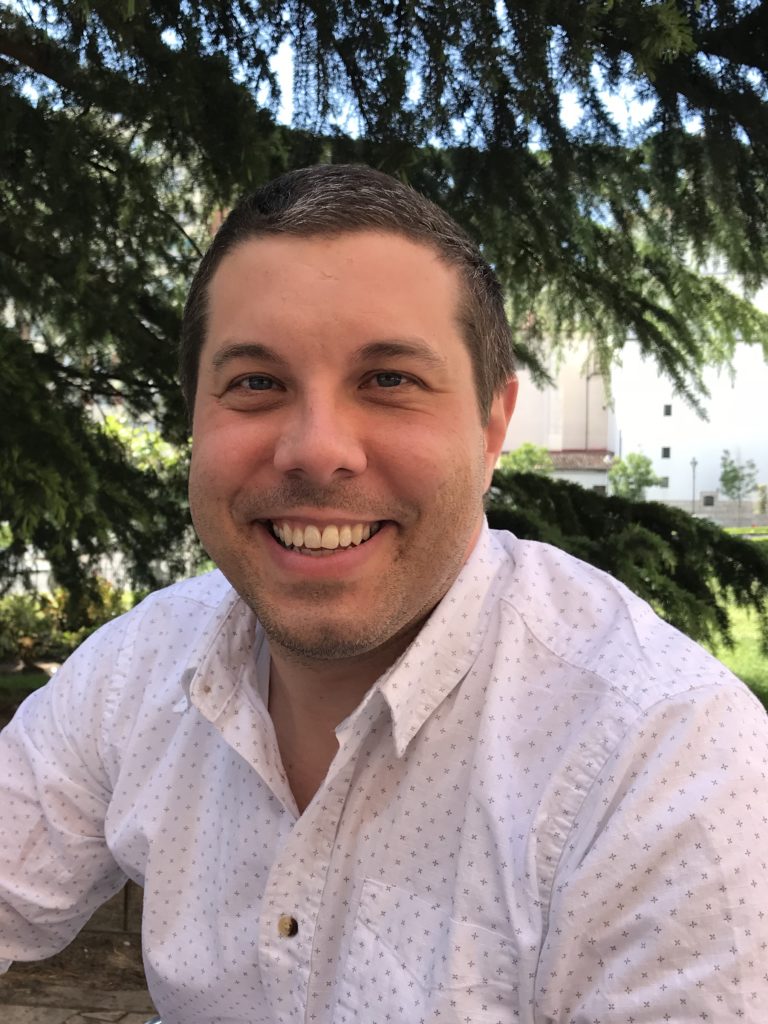 Jona Colson
Poetry Editor, WWPH Writes
President, WWPH
---