WWPH WRITES ISSUE 56 TINY POEMS SPECIAL EDITION II
Welcome to WWPH WRITES 56… TINY POEMS Special August Edition II!  And if you are thinking of submitting to our 2024 manuscript contests in poetry, fiction, or creative nonfiction when the contest opens on September 1, please make sure you review our updated guidelines here, including our 50th Anniversary Fiction Award sponsored by Carol Trawick.
Read on to TINY POEMS…we will be back in our next edition with prose…and more poetry!
Caroline Bock & Jona Colson
co-presidents, WWPH Writes

---
PRESENT
Let the oven beep
and frozen pizza burn:
the cat is in my lap
Alyson Lynch is a poet and death doula living in Baltimore, Maryland.
---
AEROPHOBIA
The ten seconds after take off
When you are flying like a god before you remember:
Birdstrike
Danielle Stonehirsch writes and lives in fear of flying and birds in Silver Spring, MD.
---
BIRDSCAPE
in pairs
kissing cardinals and mirroring titmice
morning loneliness
Cathy Hailey is Northern Region Vice President of The Poetry Society of Virginia and organizes In the Company of Laureates, a gathering of poet laureates in Prince William County. Her chapbook, I'd Rather Be a Hyacinth, was published by Finishing Line Press.
---
HUMMINGBIRD
Climbing like a tiny rocket
a blur of beating wings
she hangs motionless in the air.
Lois Perch Villemaire of Annapolis writes poetry and memoir flash along with researching family history, practicing yoga, and raising African violets.
---
HOME
Maybe home is merely the first life you built,
before you learned how much the world takes away,
always expecting you to construct again.
Jessie Atkin writes fiction, essays, and plays (not usually poems). She can be found online at jessieatkin.com
---
A HAIKU FOR HOME
I hear your footsteps
wondering ghost weighted down
by my memories
Jeff Scott Lane is an artist from Fairfax, Virginia with poetry published in So it Goes, Coffee People Zine, and What Rough Beast—COVID-19 Edition.
---
NEXT STOP, VENUS
if you are an alien who has come for a visit
you should know that this place is
inhospitable
Jane Palmer is a professor, writer, researcher, and activist who lives in Takoma Park, MD.
---
END GAME
Rows of mini-ants
mince in and out of baited trap:
Weapon of mass destruction.
Natalie Canavor has edited national magazines, run a communications department, written prize-winning feature articles and taught graduate-level writing. She turned to poetry four years ago, under the mentorship of Grace Cavalieri.
---
MY YOUTH
shyness awareness camp
first day
nobody shows up
Eleanor Jones is a Maryland-based public relations executive and a private relations writer.
---
FRIENDSHIP LOVE HAIKU
I said I love you
She said I don't feel the same
We kissed. It began
Harvard Magazine called Peter Coppelman "one of the leading public interest lawyers of his generation;" in retirement he has become a poet.
---
WEST VIRGINIA SKETCHBOOK
Mountains, yes. But draw them abstract.
No honey dappled hills of clover.
Just curve a line to ground the sky to earth.
Henry Crawford is the author of two full-length collections of poetry, American Software (CW Books, 2017), and The Binary Planet (The Word Works, 2020).
---
DAWNING
Willa Cather sky
Virginia, not Nebraska
blue, pink, orange edged
Sarah Tollok lives in the Shenandoah Valley. Her debut novel, Bookstories, will be hitting shelves March of 2024.
---
SMART ASS OAK
Smart-ass oak
drops one more leaf
on the pile I raked
Hunter Ward is a writer and songwriter based in Washington, DC.
---
WATCH THE CREEK PURL AMONG THE ROCKS
The great blue heron rise,
its wings treading the air
with a low whistling sound.
Kay White Drew's work appears in the Grace and Gravity series, This Is What America Looks Like, and Loch Raven Review, among others. She lives in Rockville, MD, with her husband.
---
I PUT MY HAND INTO THE STREAM
watched the water circumvent
this scrim of worldly flesh
this dam of bones I had erected
Kathleen Hellen is the author of the full-length collections: Meet Me at the Bottom, The Only Country Was the Color of My Skin, and Umberto's Night, and two chapbooks. She lives in Baltimore.
---
LOUISE BROOKS WALKS THROUGH THE CITY
Flirtation evades
To induce the chase until
It finds itself lost.
James Toupin is a retired government lawyer who has published poems widely.
---
LANDSCAPE
We escaped the land
and lost ourselves
among concrete pillars and glass portals.
Susan Drilea lives in North Potomac, Maryland. She has facilitated a poetry study group and participates in a poetry workshop and a creative writing group.
GLOVER PARK, DC Playground
playground noise
stepping through yellow
feral daffodils
Juliana Schifferes is a poet from the Washington, DC area. She has published in Bourgeon.
---
MURPHY'S LAW BED SENRYU
Shut up in the wall
Just this solitary bed
And my breathing sounds
Alan C. Reese wanders and wonders lonely as a cloud in Baltimore.
---
ANTIQUE SHOP
Family album
Someone's Papa and Aunt Sal
Known to no one now.
Patricia Gray is the happy recipient of a 2023 Artist Fellowship in Poetry from the DC Commission on the Arts and Humanities.
---
MY FAIRY TALE
He places the car seat on the floor,
"Your granddaughter."
I kiss the princess and wait for her to awaken.
Danuta E. Kosk-Kosicka is the author of two prize-winning poetry collections and translator for four books by Lidia Kosk. Co-editor of Loch Raven Review.
Marylander since 1981.
---
week 9
beautiful invader; jellybean stranger
the answer, the question
my child yet to be.
Catherine Bloom is a Maryland-based librarian and scribbler.
---
EVERLASTING MOM
The laptop shrieked in the middle of the night, the screen flashing "motherboard failure."
I turned it off and went back to bed, accepting that old moms can't mother forever.
In the morning, the tech said it seemed to have fixed itself.
Garinè Isassi is the author of the award-winning novel Start with the Backbeat. She loves music, chocolate, and altruistic sarcasm.
---
ANNUAL PERFORMANCE REVIEW
My career goal?
Survive capitalism,
eyes still twinkling.
Caly McCarthy is a resident of Cleveland Park who finds uncanny delight in cooking chickpeas on her stove.
---
EYE OF THE TIGER
All these past lovers,
a training montage.
Jennifer Browne cares deeply about penmanship.
---
AFTERWARDS
Light bounced from the lagoon
played on our louver slats
like the left hand of a phantom guitarist
Michael H. Levin a lawyer, solar energy developer and writer based in Washington DC, has been published widely and authored four poetry collections.
---
WWPH Community News
IN MEMORIUM…Elaine Maria Upton (December 22, 1945 – July 20, 2023). She is the author of Children of Apartness (Washington Writers Publishing House, 1993), winner of the 1993 Columbia Book Award for Poetry, and a translator of poets from German to English. She was an assistant book editor for Being Human, the newsletter of the Anthroposophical Society in America, and taught at several schools and colleges, including the Max Stibbe School in South Africa, the Institute of American Indian Arts in Santa Fe, Dartmouth College, and the University of Maryland. At the time of her death at age 77, she was living in Great Barrington, Massachusetts. At the Washington Writers' Publishing House, we are able to publish our books today because of the others who came before us. Thank you, Kim Roberts, a WWPH author, for sharing this with us.
OUR 2023 AWARD-WINNERS will be published on OCTOBER 3, 2023. If you are planning ahead, our 2024 Manuscript contests in poetry, fiction, and creative nonfiction open on SEPTEMBER 1-November 1…Prize monies, publication, editorial support, and promotion. Past WWPH winners judge all entries blind. We strongly encourage you to read our recent award-winning books to learn more about our literary sensibility. Purchase our books at our bookshop.org affiliate page and everywhere good books are sold. Our submission guidelines have been updated for 2024. Read details here.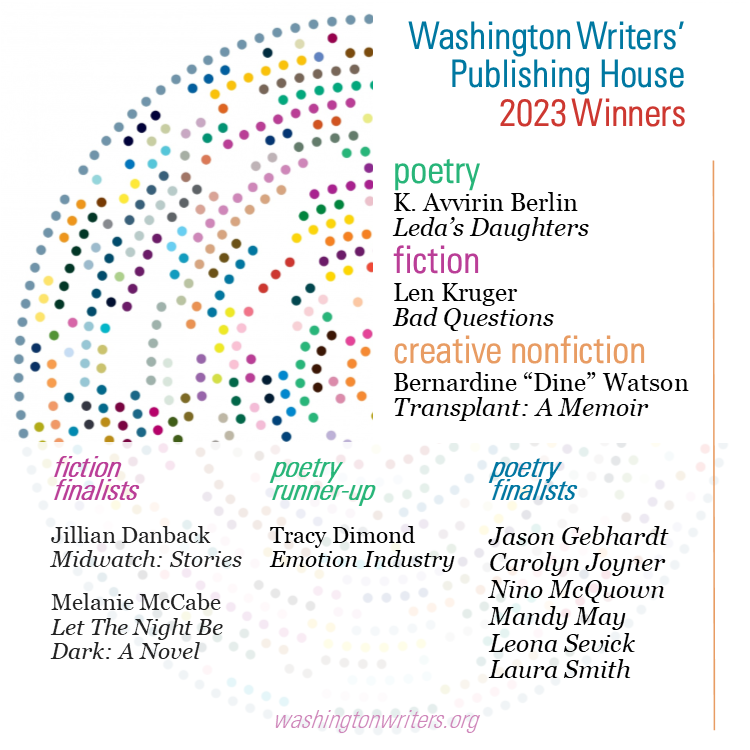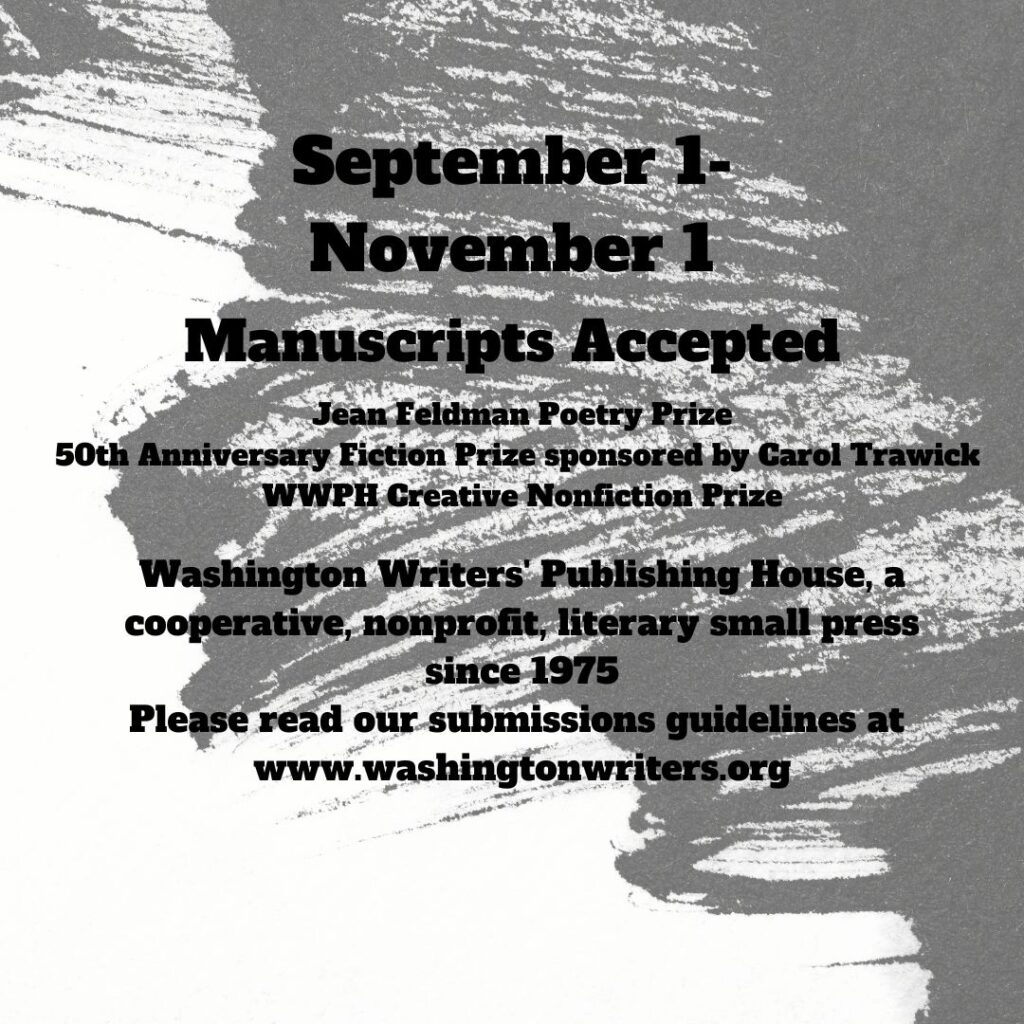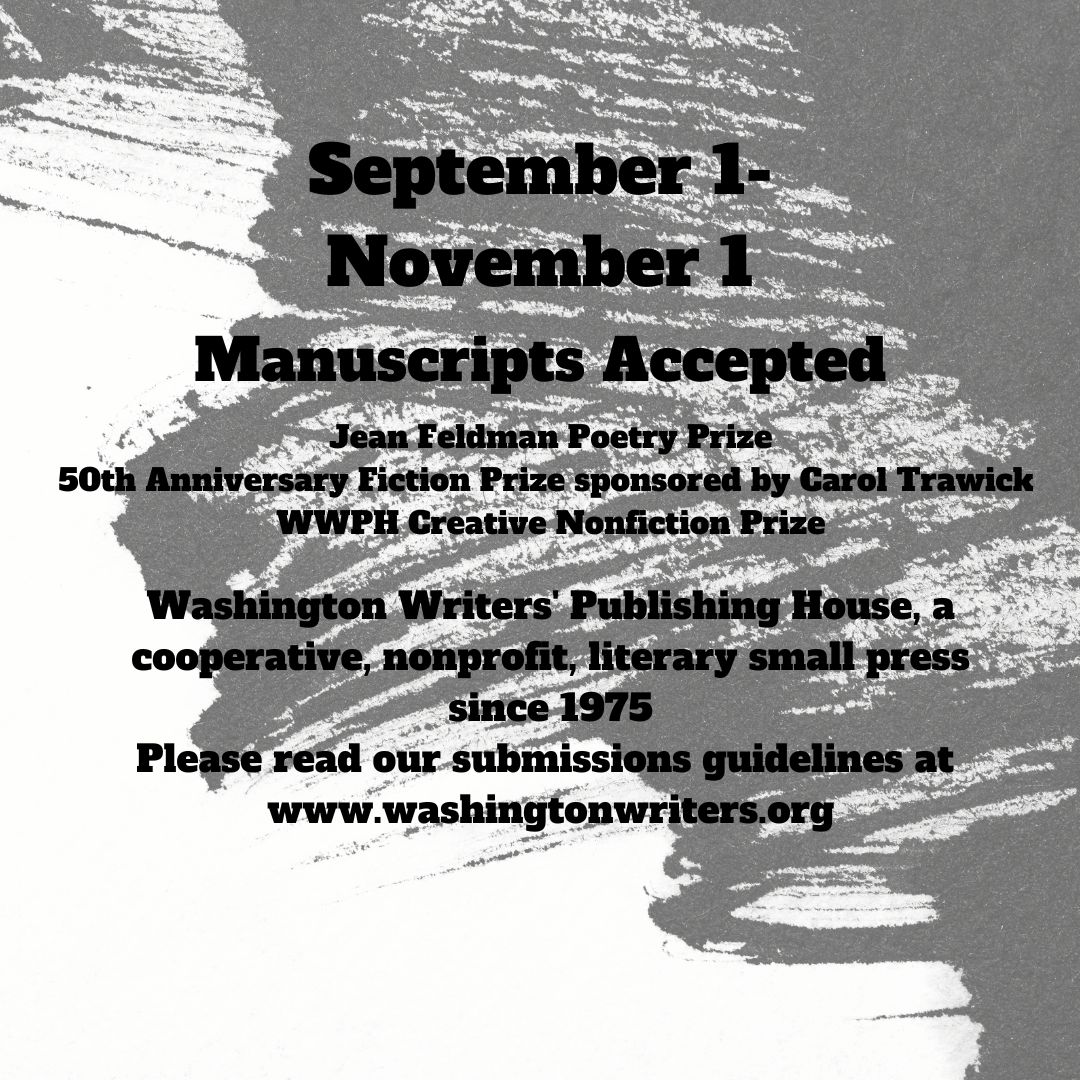 ---
Purchase our award-winning books including THE WITCH BOTTLE AND OTHER STORIES, by Suzanne Feldman, winner of our 2022 Fiction Award, NOW AVAILABLE AS AN EBOOK for your KINDLE (only $7.99) and for all devices!
---
---
MARK YOUR CALENDARS! Saturday, October 14th at 3 pm for the Politics & Prose (main store) launch reading for our 2023 Books. FREE and OPEN TO ALL. Please join us.
---
---
---